WarGames (War Games)
(1983)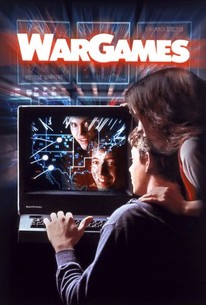 TOMATOMETER
AUDIENCE SCORE
Critic Consensus: Part delightfully tense techno-thriller, part refreshingly unpatronizing teen drama, WarGames is one of the more inventive -- and genuinely suspenseful -- Cold War movies of the 1980s.
WarGames (War Games) Videos
WarGames (War Games) Photos
Movie Info
Once more, a wise-guy teenager tries to prove he's smarter than any adult-and nearly destroys the whole world in the process-in WarGames. Computer-game aficionado Matthew Broderick inadverently taps into a hush-hush Pentagon computer, then proceeds to inaugurate his favorite game, "Global Thermonuclear War". What we know, but Broderick doesn't, is that the Pentagon, hoping to eliminate the chancy "human element" in the event of an actual war, has given its computer total, irreversable control over the launching of nuclear weaponry. Broderick and government official Dabney Coleman race against time to reverse the computer's resolve to send bombers to Russia. WarGames scored a hit, especially with teenage filmgoers.
Critic Reviews for WarGames (War Games)
Audience Reviews for WarGames (War Games)
A teenage computer hacker accidentally starts a World War III simulation with a military supercomputer. In the oeuvre of "the machines are winning" films, like Dr. Srangelove, Or How I Learned to Stop Worrying and Love the Bomb or The Terminator, Wargames ranks among the best of in this genre. If that's not enough, in the oeuvre of Cold War era peace films, like Fail Safe and The Russians Are Coming, the Russians Are Coming, Wargames's message fits witth the best of these as well. Without being terribly preachy, the film deftly expresses these two sentiments -- the over-determination of technology on our lives and the stupidity of Cold War era foreign policy. Particularly, "I was going to learn to swim" was a very nice touch. Matthew Broderick was such a great actor in his younger days. He was so understated. His work was similar to a young Dustin Hoffman, and while his recent work has fallen off slightly, it's always great to revisit Ferris Bueller's Day Off, Biloxi Blues, and this film, Wargames to see how great he was. I found the plot predictable, and the bit with Falken and the helicopter was too deus ex machina for my tastes. Overall, this is a very good film about concepts that remain relevant today.
Jim Hunter
Super Reviewer
½
Stephen Falken: What you see on these screens up here is a fantasy; a computer enhanced hallucination!  "Is it a game, or is it real?" Wargames is a classic thriller that stars a young Matthew Broderick. It's a quick paced film that uses the cold war to good effect. It isn't a perfect movie, nor is it an amazing movie, in my opinion. What it is though is a fun film. It's entertaining, it's occasionally funny, occasionally thrilling, and it does have a brain. It's involving, but not quite as involving as I initially thought it would be. In the end, I rather enjoyed it though. David is an intelligent high schooler, but also an under achiever. He spends most of his time on the computer and has gotten pretty good at hacking into systems. When he tries to hack into a gaming computer to steal some of its games, he accidentally gets into a military one. When he sees a list of games he decides to play Global Thermonuclear War. What he thinks is just a game turns into a real life situation when NATO thinks the Soviets are attacking. Is it a game, or is it all too real? The movie definitely suffers a bit with its age. It's dated for sure, and some of the acting isn't the best. Had I watched this in 1983, I probably would have appreciated it a whole lot more. Watching it for the first time in 2013, it all seems extremely silly, but still fun. There's nothing here that makes me want to say anything too harsh about the film, but there's also nothing that makes me want to declare it as one of the best movies of the 80's as many like to claim.  This is worth a look if you're one of the few people who haven't seen it. It's worth it for a young Matthew Broderick and its involving story about cold war hysteria and computers vs. human beings. 
Melvin White
Super Reviewer
½
A really exciting and funny movie. Was it trying to be to be funny, who knows, but it was. The pure stupidity of these characters was funny to me. The plot was actually good, and really interesting. I think a lot of people check it out.
Jim Careter
Super Reviewer
WarGames (War Games) Quotes
| | |
| --- | --- |
| David: | Is this real or is it a game? |
| Joshua: | What's the difference? |
| | |
| --- | --- |
| Gen. Beringer: | Well hell, I'd piss on a spark plug if I thought it would do any good! |
| | |
| --- | --- |
| Falken: | W.P.O.R.: A strange game.The only winning move is not to play. How about a nice game of chess? |
| | |
| --- | --- |
| Falken: | Did you ever play tic-tac-toe? |
| Jennifer: | Yeah, of course. |
| Falken: | But you don't anymore. |