WarGames: The Dead Code
(2008)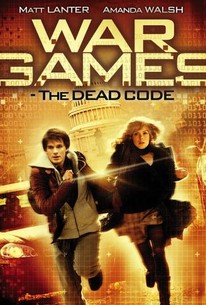 AUDIENCE SCORE
Critic Consensus: No consensus yet.
WarGames: The Dead Code Photos
Movie Info
A brilliant hacker inadvertently sets the wheels of World War III into motion after hacking into a restricted online gaming network and learning of a national defense system designed to identify fledgling terrorist cells in this belated sequel to the popular 1982 thriller. There isn't a system on the planet that Will Farmer (Matt Lanter) can't hack into with a little work, so when he manages to breach the security of a restricted online gaming network known as R.I.P.L.E.Y., he's convinced that his skills are still as sharp as ever. But what Matt hasn't realized is that R.I.P.L.E.Y. is actually a highly classified government defense system, and he's just become its next target. Now the system knows his identity, and his entire hometown faces the threat of an automated military response. In order to clear his name, Matt will have to beat the computer at its own game. The game turns deadly, however, when R.I.P.L.E.Y. suddenly raises the stakes, threatening Armageddon in a time when the world is already dangerously unstable. With no time left to lose before the missiles start to fly, Matt must now use his formidable hacking skills to save the world from the government's own hopelessly flawed doomsday device.
Critic Reviews for WarGames: The Dead Code
All Critics (3) | Fresh (1) | Rotten (2)
Keeps the formula topical, replacing Soviet aggressors with cyber-savvy terrorists, but the renovations end there.
As far as direct-to-DVD sequels go, you can do a lot worse
casual moviegoers won't get the in-jokes and won't care about the plot.
July 26, 2008 | Rating: 3/5
Audience Reviews for WarGames: The Dead Code
I loved the original Wargames and found this one just as enjoyable. This one rehashes the basic premise of the first movie, but in a new and modern way (such as terrorists) and added some 'Enemy of the State' like surveillance and pursuit scenario. Plot: Philadelphia high-schooler Will Farmer (Matt Lanter) plays a computer game that simulates a terrorist attack, and Ripley, the super government computer with a sexy voice, designed to profile potential terrorists, tracks him down because he beat five levels in 15 minutes, this makes Ripley believe that he is a high level terror threat. Professor Falken and Joshua (WOPR) make reappearance in this movie and I enjoyed the confrontation between Ripley (Alien, anyone) and Joshua. If you like the science-techno-computer-hacker-surveillance type of action movie, be sure to check this one out.
A nice straight to dvd movie. Paid nice homage to the original. This was a sequel and not a remake and did really nothing to diminish the original movie.
John Manard
Super Reviewer
½
I think my IQ dropped a few points watching this one. Overly complicated story, bad acting, (with the exception of Amanda Walsh, who was decent), not even a scratch on the original. Best avoided.
Nicki Marie
Super Reviewer
WarGames: The Dead Code Quotes
There are no approved quotes yet for this movie.