Warlock
(1991)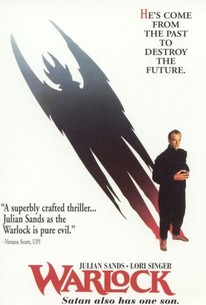 Movie Info
Julian Sands oozes maleficence as a warlock of the 1600s cast forth to 1980s Los Angeles, where he continues to work his deviltry. The story begins in 1691 Boston when a warlock is condemned to die. Calling for Satan's help, the warlock is sent forward in time to contemporary Los Angeles, where he comes crashing through the window of Kassandra (Lori Singer) and her roommate Chas (Kevin O' Brien), who think that the warlock is a LA drunk and let him stay the night to sleep it off. The next day, the warlock brutally murders Chas and then locates a spiritualist (Mary Woronov) who, possessed by the devil, tells the warlock that he must find the three parts of the Grand Grimoire, the witches' bible that contains the secret name of God. Meanwhile, Kassandra, grieving over the death of Chas, comes upon Giles Redferne (Richard E. Grant), a warlock hunter from the 16th century, sent into the future to find the warlock. While Giles is busily putting together a "witch-compass" to track the warlock, Kassandra calls the police and has him arrested. But then the warlock returns and puts a curse on Kassandra. She blacks out, only to awaken the next morning to discover that she has aged twenty years. Realizing she has put the wrong representative from the 16th century in jail, she bails out Giles and they both go in search of the warlock.
Critic Reviews for Warlock
Audience Reviews for Warlock
½
Probably the franchise Julian Sands is best known for...but that's probably not the best thing to shout about. I remember seeing this in the videoshop as a kid, top row, where young hands couldn't reach. It was considered a bit of a video nasty I think, to do with witchcraft, evil demons, the devil etc...not the stuff for young developing minds. First time seeing this recently and it did kinda remind me of 'The Evil Dead' a little bit. Not totally of course but the plot revolves around the good guys getting their hands on the pages of a Grimoire which isn't too dissimilar from those early Raimi flicks. The soundtrack is odd and doesn't really match the action, its kinda of quirky when it should be impending doom. A young Richard E. Grant plays the good guy but is miscast really, pretty bad Scottish accent there, at least I think its suppose to be Scottish. The only good thing about this film is Sands lets be honest here. The guy is good looking in that blonde British aristocratic Sting kind of way, he's well spoken, he looks badass in his costume and his hair looks cool I can't deny it. He merely trapes around killing people in nasty ways and that's it, with the odd bit of fancy witchcraft dialog. I liked this for being a typical crummy cheesy ass 80's horror flick. The effects look awful now, truly horrific, especially when the Warlock is flying around yikes!. I'm guessing back in the day they weren't too bad but I dunno because I never saw it back in the day. Other than that the film doesn't really hold up too well these days, it looked cheap for its time so now it looks even worse. A case of the films visuals/special effects looking so bad its cool. Whilst the acting and general feel/atmosphere of the film is darn corny nowadays, its great fun to watch hehe. Not sure why its such a cult film though.
Phil Hubbs
Super Reviewer
I have a soft spot for this movie, it is like a medieval terminator, plus, it has Richard E Grant and Julian Sands hams it up pretty good.
Tsubaki Sanjuro
Super Reviewer
What a terrific bad movie! If you're going to go in with a ridiculous premise for a film, you can't do it half-cocked; You have to run with it with furious gusto and and hysterical glee, which is exactly what happened here. This movie is actually pretty well-made: the effects are quite admirable (well, except for the flying warlock) and the writing is actually pretty tight. The dialogue is a little cheesy, but the characters are really well crafted. I think this film should get extra points for not falling into the trap of making their characters (especially the heroine) lunkheads for the sake of advancing the plot. Redferne and Kassandra actually make a pretty adept witch-hunting team and formidable adversaries for the devilishly slimy Warlock. Oh man. Julian Sands is great in this movie. You can just tell that he's having fun being evil, and that sense of delicious fun is infectious. The Warlock is one of my new favorite cinema villains. I was really impressed with the fire effects, even moreso considering this movie was made in the late 80s. This movie is wonderful trash. I think I might have enjoyed it even more since I was a huge fan of Hocus Pocus as a child. The parallels are unmistakable. This is like Hocus Pocus for grownups, and Sands is as wicked in this movie as Bette Midler was in that one.
Emily Armstrong
Super Reviewer
Warlock Quotes
There are no approved quotes yet for this movie.