Warlock Moon
(1973)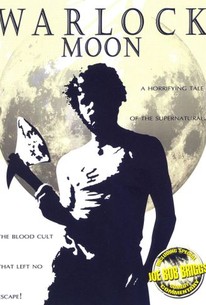 AUDIENCE SCORE
Critic Consensus: No consensus yet.
Movie Info
College student Jenny (Laurie Walters) meets aspiring journalist John (Joe Spano), who convinces her to go on a picnic with him. While lost in the countryside, the pair stumble upon a sprawling, rickety estate that years ago had been the Soda Spring Health Spa. A kindly old woman (Edna Macafee) who lives in a restored section of the main house offers them tea and a tour, but Jenny feels strangely dizzy and is sure that she saw a strange apparition in a wedding dress float by in the hall. Though the place gives her the creeps, John talks her into returning a few days later so he can write a feature story about the history of the spa. Jenny arrives early and is shocked to find no sign of the old woman at all, and a kindly hunter who passes by confirms that the decrepit spa has long been abandoned, ever since a sinister cannibalistic episode forced it to close down 50 years before. When John finally shows up, the old woman and her clean, orderly living quarters are suddenly back, and Jenny starts to realize that something evil and supernatural is afoot. A padlocked meat locker holds enough evidence to prove without doubt that Jenny is intended to be the focus of a hideous Satanic rite.
Critic Reviews for Warlock Moon
There are no critic reviews yet for Warlock Moon. Keep checking Rotten Tomatoes for updates!
Audience Reviews for Warlock Moon
½
A young woman is taken for a long scenic drive by a new male friend. As the day grows shorter, they happen upon a seemingly condemned resort which turns out to be occupied by a strange, but welcoming, beldame. The young couple agrees to stay there overnight, and learn the horrible history of the old spa...as the woman's story has it, the resort was once a relaxation retreat for the world's elite and powerful, but was closed down after several sacrificial ritual murders committed by a group of Devil-worshipers. Well...predictably, there is similar carnage in store for the new guests, little of which registers as entirely interesting or especially horrifying. WARLOCK MOON opens with a pretty strong scene, but the promise of a movie as good as that is sadly quashed by a marginal story which is paced poorly and never really gets off the ground. Still, it's mighty quirky in a weird low-budget way which may well appease fans of obscure flyball horror flicks. perhaps not a classic, but a worthy watch on late-night television. 1 1/2 Stars 12-21-13
Bruce Bruce
Super Reviewer
½
Excrutiatingly dull. I got halfway through and was seriously considering FF through the rest when I remembered Joe Bob Briggs had a commentary track. I watched it again from the beginning and was able to enjoy it this time so three stars for the Briggs version.
A.D. Villarreal
Super Reviewer
With a name like Warlock Moon, you'd be right to expect a warlock somewhere in the film... or a moon for that matter. Released slightly before Texas Chainsaw Massacre (which apparently had Tobe Hooper trembling with fear that another movie with a cannibal family was being released before his), this fun/dumb film has lots of great moments, and dull ones too for that matter. But if you get into the spirit of the film even the slow parts are endearing in their own special way. And get the DVD with the Joe Bob Briggs commentary, he really does so the best "Film Expert" commentaries.
Christopher Brown
Super Reviewer
Warlock Moon Quotes
There are no approved quotes yet for this movie.