Warlock: The Armageddon
(1993)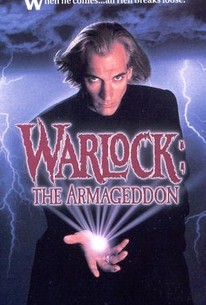 AUDIENCE SCORE
Critic Consensus: No consensus yet.
Warlock: The Armageddon Photos
Movie Info
The sequel to Warlock, this film features the return of the evil warlock (Julian Sands) who is on a quest to search out and obtain a set of six magical runestones needed to summon the Devil to Earth. However, a group of powerful druids have become aware of the sinister plans afoot, and it is up to them to defeat the warlock and prevent Armageddon.
Critic Reviews for Warlock: The Armageddon
All Critics (5) | Top Critics (1) | Fresh (0) | Rotten (5)
This time, no co-star of Grant's stature joins the WASPy, waspish Sands, and except for the occasional neat special effect, this sequel proves an exceedingly cheesy affair.
Should've been Armageddon for the franchise, but unfortunately they made a third one too.
May 27, 2003 | Rating: 1/5
Audience Reviews for Warlock: The Armageddon
He's back, in a messy bloody gory sequence where an innocent young girl gives birth to Satans son, the Warlock is reborn. Julian Sands rises once more to reap carnage on all that stand in his way, plus he still looks annoying good looking with that tarty hairdo. Not too sure whether Sands Warlock is suppose to be a mere spawn of Satan in the same guise or the same devilish soul as before just reborn, I'm guessing the latter. Anywho off we go as Mr Warlock merrily kills, mutilates and destroys one person after another as he searches for the mystical rune stones that may raise his boss. That's the plot right there, its easy and simple, but what this film offers is exactly what you want, more imaginative killing by the Warlock. We get that in spades this time round with the added bonus of much better production values, better effects, much more interesting deaths and heaps more blood n gore. That's it really, nothing more to say, its clear there is a better budget this time round, the cast are more recognisable too. Whether you feel its better than the original I don't know, the original has more of a proper plot, this is obviously just a rehash with extra claret on display. To be honest this does feel more like a Satanic 'Terminator' really, 'T2' with a Warlock, not scene for scene of course but along those lines. What I find interesting about this Warlock character is the fact he is completely evil, he can't be bargained with, he doesn't feel pity, or remorse, or fear...haaang on!. He shows no mercy ever, he double crosses, tricks, leads people into a false sense of security and no one is safe no matter how young or how sexy, no guilt, just kill, actually kinda creepy despite the ham. More of a riot for sure but loses the credibility of the first methinks. Naturally cliched, predictable and routine type stuff but that low budget feel (even though higher than before) somehow tends to make things so much better, more acceptable.
Phil Hubbs
Super Reviewer
½
Enjoyable fantasy horror about the son of Satan's attempt to resurrect his father in modern day America. It's not particularly frightening or scary and the digital effects look dated, but it's fast-paced, gruesome and Julian Sands owns as the Warlock once again.
Warlocks with Julian Sands are the Best. I dont say Bruce Payne was bad, just not so convincing like Julian Sands.
Warlock: The Armageddon Quotes
There are no approved quotes yet for this movie.