Warm Bodies
(2013)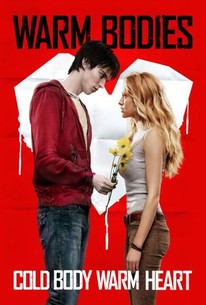 TOMATOMETER
AUDIENCE SCORE
Critic Consensus: Warm Bodies offers a sweet, well-acted spin on a genre that all too often lives down to its brain-dead protagonists.
Movie Info
A funny new twist on a classic love story, WARM BODIES is a poignant tale about the power of human connection. After a zombie epidemic, R (a highly unusual zombie) encounters Julie (a human survivor), and rescues her from a zombie attack. Julie sees that R is different from the other zombies, and as the two form a special relationship in their struggle for survival, R becomes increasingly more human - setting off an exciting, romantic, and often comical chain of events that begins to transform the other zombies and maybe even the whole lifeless world. (c) Summit
Critic Reviews for Warm Bodies
Audience Reviews for Warm Bodies
½
Quite adorable! I used to not care for Nicholas Hoult - mostly because of his uncomfortably attractive elfin features - but he's all hunched over and oatmeal-tinged as a half-sentient zombie who lives in an abandoned airport in a post-apocalyptic future, so I can dig it. In this gritty yet comedic send-up of "Romeo & Juliet," R catches feelings for Julie, the headstrong daughter of the general in charge of eradicating the undead. He kidnaps her to keep her safe from other less evolved zombies, and they eventually strike up a bond. The R&J parallels are pretty cute, and though it pains me to say this, Teresa Palmer is the blond, Australian, more emotive doppelganger of KStew.
Alice Shen
Super Reviewer
½
need to finish watching
_kelly .King
Super Reviewer
Another zombie flick, oh...great, but wait! this one is different, its about a zombie falling in love with a female who's still alive...wait what? Yes that's right the zombie in this flick is the undead hero and goes after a young girl saving her life. He then goes about looking after her and trying to woo her for her affections, yeah it does sound kinda sick doesn't it. OK so the plot is pretty unique I give it that, its original to see a zombie flick from the zombies point of view. This still doesn't alter the fact its an incredibly silly idea and amazes me it actually got the green light. The start of the film is actually quite good as we see zombie life, the kinda things we all know from zombie horror flicks of the past here presented in a mundane way, daily undead routines. Its got a nice quirky light feel to it, a horror comedy that really got me hooked I must admit. Things do get a bit daft as the zombies try to communicate, as narrated by our hero zombie, we hear his thoughts throughout. Its at this point you're thinking this is why no one has done this before, its ridiculous. The film goes up a gear of course once our zombie meets his girl and sweeps her off her feet. Its also the start of many many plot and idea issues. Not that I'm surprised seeing the content of the film, you know not to expect a completely coherent storyline. Why do the zombies seem to shuffle along yet in flashbacks they run? why do bonies run so well? why do bonies all look exactly the same? why do bullet hits anywhere kill bonies yet zombies need one in the head? how do the zombie masses manage to recover/come back to life? we know it was some kind of biological/viral outbreak that has killed everyone and turned them into zombies. But how would the body recover from this when its been clinically dead for a long period of time? decaying, no heartbeat. Its funny how the zombies are suppose to be completely brain dead (including our hero) yet still manage to speak, think, act etc...At the start when the girl is taken by our hero zombie she can escape at anytime quite easily. All she has to do is run off because the zombies only shuffle around, plus she accepts so easily that she's been captured. Anyone else would have smashed his brains out at the first chance they got, and she gets many. Also why did the other zombies believe she was dead? just because he smeared a tiny bit of zombie blood on her face?? really? I could go on but I won't simply because its a very easy film to pick apart, but its not suppose to be a thinker. Its a silly zombie flick with a twist and leaning towards comedy, I won't say romance because its just too stupid. Yes the inevitable comparison to 'Twilight' lingers in the air but its not really like that, yes our hero zombie is an Edward type of character with lots of pretty blue eye close ups but he doesn't sparkle. The female 'love' interest is not like Bella either, its not that sappy thank god, although she does kiss him whilst he's still undead (seconds before he is revived), so is that soft core necrophilia? Nicely original apart from the whole zombie apocalypse/last remaining humans in barricaded city stuff, and I liked the undead bonie zombies. Its not overly funny nor is it overly slushy and wet, its not scary but its not for kids either, it hangs somewhere in between. Had this been a tad more adult, had a bit more dark gallows humour, it could of been in the same league as 'An American Werewolf', but it holds its own.
Phil Hubbs
Super Reviewer
Warm Bodies Quotes
| | |
| --- | --- |
| Julie: | No, I'm serious, Nora. I mean, "Corpse" is just... It's just a stupid name that we came up with for a state of being that we don't understand. |
| | |
| --- | --- |
| R: | R: "I don't want to hurt you. I just want to feel what you felt, to feel a little better, a little less dead." |
| R: | I don't want to hurt you. I just want to feel what you felt, to feel a little better, a little less dead. |
| | |
| --- | --- |
| M: | I like her |
| M: | I like her. |