Warm Springs
(2005)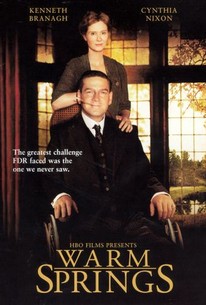 AUDIENCE SCORE
Critic Consensus: No consensus yet.
Movie Info
In the tradition of Dore Schary's Sunrise at Campobello, the made-for-cable biopic Warm Springs focuses on one of the least publicized aspects in the life of America's most-publicized (and longest-serving) president, Franklin Delano Roosevelt, here played brilliantly by British actor Kenneth Branagh. Like Sunrise, Warm Springs uses as its starting point the year 1921, when the 39-year-old Roosevelt was permanently paralyzed from the waist down by an attack of polio. But whereas the earlier film concentrated on FDR's battle to return to public life despite his handicap, this film zeroes in on Roosevelt's efforts to cure himself of his affliction. Having heard of the therapeutic value of the waters of Warm Springs in rural Georgia, Roosevelt makes a pilgrimage to the area, which is little more than a swamp surrounded by dilapidated shacks. Though he never experiences the "miracle" cure that he so desperately seeks, Roosevelt is instrumental in the conversion of Warm Springs from a backwater hellhole to a streamlined, efficiently managed polio-treatment center, a virtual mecca for hundreds of thousands of others who had been crippled by the debilitating illness. And in the process, he also brings hope, optimism, and racial enlightenment to the poverty-stricken, multiethnic citizens of Warm Springs. Even more significantly, FDR removes the stigma of polio from the public consciousness, forever abolishing the misguided notions that the disease adversely affected the brain, that it could be spread merely by physical contact, or that it represented celestial "punishment" of the victim (it is noted, however, that Roosevelt was always careful never to reveal the true extent of his immobility nor his atrophied legs in public, feeling that it might diminish the nation's image of an "invulnerable" Commander in Chief). Also in the cast are Cynthia Nixon as Roosevelt's devoted wife, Eleanor; Jane Alexander (who'd previously played Eleanor Roosevelt in two TV miniseries) as his over-protective mother Sara; David Paymer as his crusty chief aide Louis Howe; Kathy Bates as his no-nonsense physical therapist Helena Mahoney; and Tim Blake Nelson as Tom Loyless, the man in charge of Warm Springs. Originally telecast by HBO on April 30, 2005.
Critic Reviews for Warm Springs
All Critics (1) | Top Critics (1) | Fresh (1) | Rotten (0)
Funny thing: Even if Branagh never "becomes" FDR in the fullest and most satisfying sense, his performance takes hold of your imagination and makes the misgivings almost irrelevant.
Audience Reviews for Warm Springs
½
Fantastically acted, very inspiring, moving story of FDR's struggle back from polio and the difference Warm Springs made to his life and the difference his involvement make in the treatment of the disease.
Warm Springs Quotes
There are no approved quotes yet for this movie.