Warning: Parental Advisory
(2002)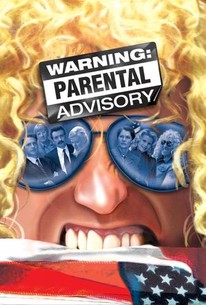 AUDIENCE SCORE
Critic Consensus: No consensus yet.
Movie Info
According to this irreverent made-for-cable movie, the mid-'80s movement to slap "parental advisory" labels on music videos and albums was fueled by clueless congressional wives and opportunistic hacks. Mariel Hemingway is cast as a sincere but misguided Tipper Gore, who in 1985 declares all-out war upon "dirty" rock lyrics. Her main opponent in this epochal battle is Charlie (Jason Priestley), a cynical lobbyist for the music industry, whose own motives are far less altruistic than Tipper's. Charlie's rock-music allies are a truly eclectic and eccentric bunch, including country & western balladeer John Denver (Tim Guinee), the legendary Frank Zappa (Griffin Dunne), and Twisted Sister's Dee Snider (hilariously playing himself). No one is spared the satiric thrust of Jay Martel's teleplay, least of all Tipper's politically ambitious husband Al Gore (played by Jim Beatty in a manner calculated to make everyone truly happy that the Florida recount went in the opposite direction). A deliciously ironic ending caps Warning: Parental Advisory, which premiered April 21, 2002 on the VH1 cable network.
Audience Reviews
There are no featured reviews for Warning: Parental Advisory at this time.
Warning: Parental Advisory Quotes
There are no approved quotes yet for this movie.