Warriors From the Magic Mountain (Zu Mountain: New Legend of the Zu Mountain Swordsmen) (Xin shu shan jian ke)
(1983)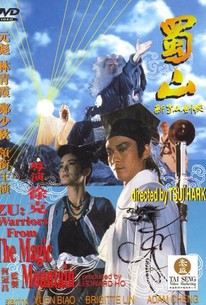 Warriors From the Magic Mountain (Zu Mountain: New Legend of the Zu Mountain Swordsmen) (Xin shu shan jian ke) Photos
Movie Info
Set in 5th century China, centers on Ti Ming-chi (Yuen Biao) a young innocent from the West Zu army who wandered away from the battlefield and into a magical underworld filled with demons and murderous swordsmen. When his life is saved by the noble warrior Ting Yin (Adam Cheng Siu-chau), Ti joins forces with his band of fighters -- including a Buddhism monk named Abbot Hsiao Yu (Damian Lau Chung-yan), his klutzy underling Yi Chen (Mang Hoi) and a fearsome old wizard named Long Brows (Sammo Hung) -- in their quest to save the world from the terror of the Blood Demon. In spite of Long Brows' powers the Demon attacks and poisons Abbot Hsiao. Ting and company take the injured monk to the enigmatic Countess of Jade Pond (Brigitte Lin Hsia) hoping that her skills can cure him. Though she manages to cure Hsiao, the demon soon possesses Ting. The combined power of Ting and the demon are too great; the Countess can only surround her castle with a solid block of ice and wait while Ti, Yi and one of the countess's guards (Moon Lee Choi-fung) ventures to the top of Blade Peak to find the legendary Twin Swords. ~ Jonathan Crow, Rovi
Critic Reviews for Warriors From the Magic Mountain (Zu Mountain: New Legend of the Zu Mountain Swordsmen) (Xin shu shan jian ke)
Audience Reviews for Warriors From the Magic Mountain (Zu Mountain: New Legend of the Zu Mountain Swordsmen) (Xin shu shan jian ke)
½
Martial arts fantasy adventure from Hong Kong director Tsui Hark. Quite ground-breaking and influencial back in its day and was the inspiration for John Carpenter's "Big Trouble in Little China". This film really wasn't my cup of tea though. The special effects are quite dated badly and the wires used to elevate the characters during the action are visibly distracting. The art design and sets are quite striking though. The film has a very fast pace and it was a real challenge keeping up with the action and reading the subtitles at the same time, something I don't usually struggle with. At the end of it all it was too tame and fantastical for my taste.
Amazing Hong Kong supernatural fantasy film.
Dean McKenna
Super Reviewer
Warriors From the Magic Mountain (Zu Mountain: New Legend of the Zu Mountain Swordsmen) (Xin shu shan jian ke) Quotes
There are no approved quotes yet for this movie.