Warriors of Virtue
(1997)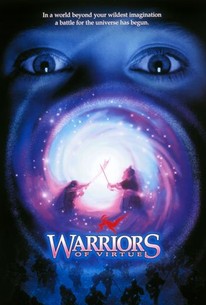 Warriors of Virtue Photos
Movie Info
Wanting to be one of the guys, lonely, awkward football-team waterboy Ryan Jeffers ignores his leg brace and attempts to jump a whirlpool. He misses and ends up sucked down into the dazzling, magical world of Tao, which is ruled by a tyrant obsessed with eternal life. Ryan carries with him a book given to him by his mentor, the sagacious Chinese chef/kung fu master/philosopher Ming, who hopes the deceptively powerful tome will help the under-confident boy find his inner strength. The book also contains the secret of immortality that the wicked ruler Komodo so desperately seeks. Ryan isn't long in the new world before he encounters Komodo's evil first hand. Fortunately, he also soon meets the five Roo Warriors (kangaroo-like creatures who use their martial arts skills for the forces of good), and their wise master Chung. Each Roo fighter represents one of the five basic elements, Metal, Air, Fire, Water and Wood, each of which in turn represents a point on a moral compass; they are united in their determination to stop Komodo from living forever. As he did with his most famous film in the West (the adult-oriented fairy tale The Bride with White Hair), Hong Kong director Ronny Yu blends excellently choreographed chopsocky action with Asian philosophical ramblings in a vibrant, special effects-filled fantasy setting; however, this adventure is aimed at children.
Critic Reviews for Warriors of Virtue
Audience Reviews for Warriors of Virtue
Quite possibly one of the main inspirations for James Cameron's Avatar. This follows a lower-body disabled kid into a world of native creatures in which he learns how to be pure and true to his heart. Next to Ferngully, this was the first thing I thought when seeing the Spectacle disaster known as Avatar. Now this movie was actually pretty oddball in nature, it's not every day that you see a movie about ninja kangaroos and bully redemption. I think it is one of the many bizarre 90s movies that will always be remembered by me.
Conner Rainwater
Super Reviewer
lawl I saw this in theaters with my friend in third grade and it was a disaster. NINJA KANGAROO FLOWER ATTACK
Drew Smith
Super Reviewer
½
this movie was pretty damn cool, the effects were awesome, and Angus Mcfayden (Braveheart)is the bad guy so thats pretty badass. I saw this today and also realized that Doug Jones (Abe Sapien in Hellboy, and Pan's Labyrinth)played one of the warriors of virtue, so that was cool. good movie to watch at 700am, and you havent slept all night
Jason Reneau
Super Reviewer
Warriors of Virtue Quotes
There are no approved quotes yet for this movie.