The Watcher
(2000)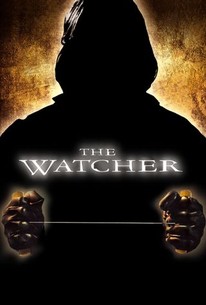 Movie Info
A detective is urged on by the lunatic he's trying to put behind bars in this crime thriller. Joel Campbell (James Spader) is a police detective who has recently relocated to Chicago after spending eight frustrating years trying to track down a vicious serial killer who has been terrorizing Los Angeles. However, the slayer, David Allen Griffin (Keanu Reeves), doesn't want the game of cat and mouse to end; even though he previously put his murderous activities on hold, Griffin has started murdering young women again -- and is sending clues to Campbell, mailing him photos of his intended victims and urging Campbell to save them while he still can. Also starring Marisa Tomei, Ernie Hudson, and Chris Ellis, The Watcher was directed by Joe Charbanic. It marked Charbanic's first feature project after directing videos for a number of alternative rock groups, including Soul Coughing, Sonic Youth, and Reeves' band, Dogstar. The film was produced under the title Driven. ~ Mark Deming, Rovi
Critic Reviews for The Watcher
Audience Reviews for The Watcher
The Watcher is a fairly decent thriller, better at atmospherics than plot or characterization. It's a cat and mouse game featuring a relationship between the killer and the detective, somewhat like Eastwood's Bloodwork or the Danny Glover-Dennis Quaid thriller, Switchback. Keanu Reeves is seductive and creepy without being too stereotypical, while James Spader is excellent. He's such a good actor he makes anything he's in better. Reeves isn't capable of emotional depth, but he portrays enthusiasm convincingly here. Marisa Tomei is a great choice for Spader's girlfriend, but she's criminally underutilized in this movie. The film is just too implausible, but I liked the overall atmosphere. The setting in Chicago is another great touch. Since the plot is so derivative or unoriginal that it is negligible, the film depends on its big budget and performances. On those points, it succeeds. This certainly isn't an outstanding film, but the 10% average doesn't do it justice either.
Clintus Maximus
Super Reviewer
Cast: James Spader, Keanu Reeves, Marisa Tomei, Ernie Hudson, Chris Ellis, Robert Cicchini, Jenny McShane, Rich Komenich Director: Joe Charbanic, Jeff Jensen Summary: Burned out after failing to bust a sadistic serial killer in Los Angeles, FBI agent Joel Campbell (James Spader) retires to Chicago. But the killer (Keanu Reeves) refuses to leave the lawman alone, and begins furnishing new clues designed to drive him mad. To motivate Campbell to rejoin the cat-and-mouse chase, the killer sends photos of his next victims. But it's up to Campbell to try to save them first. My Thoughts: "I liked it. Thought it was a good thriller. It's just you see so many movies about serial killers they all start looking the same. But I enjoyed Keanu Reeves playing the bad guy. Love him, Spader and Tomei. They were my reasons for watching this flick. They all did a great job. The movie is never slow, and it keeps you interested all the way through. Good rental."
♥˩ƳИИ ƜѲѲƉƧ♥
Super Reviewer
Tense, twisting plot, great ending. The relationship between the characters in this crime drama sets it apart from other serial killer movies. In fact, I would have like another 15 minutes in the movie to bring out these relationship even more. I would have like a little more elaboration on what happened in the past between James Spader and Keanu Reeves. Reeves plays as the serial killer is very well.
Dean McKenna
Super Reviewer
The Watcher Quotes
There are no approved quotes yet for this movie.