Water
(2005)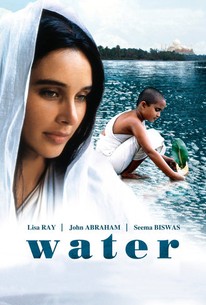 Movie Info
The film examines the plight of a group of widows forced into poverty at a temple in the holy city of Varanasi. It focuses on a relationship between one of the widows, who wants to escape the social restrictions imposed on widows, and a man who is from the highest caste and a follower of Mahatma Gandhi.
News & Interviews for Water
Audience Reviews for Water
½
There's few movies that can ride on purely beautiful cinematography in order to tell a story, but this certainly does. The message of this movie is so well told through its images that it quite possibly could have been utterly silent and still effective. Now the basic story and characters are okay, but they wouldn't be half as effective if they weren't given such a great backdrop. The issue is important, but not something an American audience would necessarily need a feature length to understand. For a two hour movie that essentially deals with one sole issue, it can be a bit lengthy and unevenly paced, but I would never go as far as to say that it was bad or boring. It also has quite possibly one of the most oddly humorous moments ever brought onscreen concerning a fart joke and a child stomping on a fat woman's back.
Conner Rainwater
Super Reviewer
Ooooooooh. This is a most WONDERFUL movie! The setting is beautiful. The story is amazing and very moving. The acting superb. This is my idea of a PERFECT film. This movie was nominated for a 2007 Academy Award. I dont understand why this movie wouldnt have won hands down. Truly, truly wonderful.
Cynthia S.
Super Reviewer
½
Heart braking and fascinating look at the terrible life of widows in India.
Jeremy Smith
Super Reviewer
Water Quotes
There are no approved quotes yet for this movie.