Waterloo
(1970)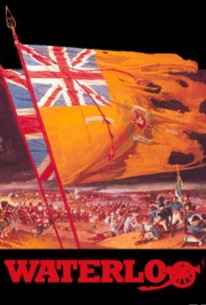 Movie Info
This historical drama, follows the exile of Napoleon Bonaparte (Rod Steiger) and his struggle to regain the French throne, culminating in his defeat at Waterloo in 1815.
Critic Reviews for Waterloo
Audience Reviews for Waterloo
What's good about this work? Steiger as Napoleon and Plummer as Wellington. And a glorious project that's as sumptuous as imagination could make it, lavish in numbers of people and in costumes and sets. But the story's too big. They couldn't get it all in. So you get crowds of well dressed folks simply standing around in some scenes. And if one is unfamiliar with the story forget about understanding the huge battle scenes. There's a better chronicle on this epic, historic battle somewhere, there must be.
Kevin M. Williams
Super Reviewer
At first, King Louis XVIII(Orson Welles) is none too worried when Napoleon(Rod Steiger) begins his comeback tour from Elba with a thousand men. When that number becomes substantially much, much larger, the king figures it might be a good time for an extended vacation. That's okay because the Duke of Wellington(Christopher Plummer) is waiting patiently in Belgium for the emperor to make his move. In the meantime, he attends a gala or two. "Waterloo" is a splendidly produced extravagansa, centered around the famed battle and turning point in history. While it is clearly apparent the huge amount of research that went into the making of this movie, it sadly never truly comes alive. Part of this comes down to the narrow focus on Wellington and Napoleon, especially about how different they may have been. In fact, the first half hour comes perilously close to becoming a one man show which is not entirely bad since Rod Steiger makes a surprisingly effective Napoleon. That's also at the detriment of almost everybody else which partially short circuits the movie's otherwise profound final statement.
Massive battle scenes and a superb cast. The script often sounds a bit strangled as it leans heavily on attributed quotes. The film was a joint Soviet/Italian collaboration made in 1970 and it seems no coincidence that political and socialogical differences between Napoleon and his adversaries are highlighted - the dictator Bonaparte is shown as very much a man of his people whereas his aristocratic opponents exhibit an air of superiority to and distain for their working class rank and file. All in all it's not a perfect film but it truly is an epic spectacle.
The Shrewlord
Super Reviewer
Waterloo Quotes
| | |
| --- | --- |
| Wellington: | Napoleon is not a gentleman. |
| Duchess of Richmond: | What an Englishman you are! |
| Wellington: | On the battlefield his hat is worth fifty thousand men. But he's not a gentleman! |
| | |
| --- | --- |
| Napoleon: | I have come back to make France happy! I am France and France is me! |
| | |
| --- | --- |
| Napoleon: | Well, they've done it. All the great powers have declared war against me. Not against France -- against me! |
| Marshal Michel Ney: | They honor you by making you a country. |
| Napoleon: | Honor? They deny me the decency of law. They make it legal for any clown to kill me! |
| | |
| --- | --- |
| Lord Richard Hay: | If you would take the men into your confidence.... |
| Wellington: | If I thought my hair knew what my brain was thinking, I'd shave it off and wear a wig. |