Waxwork
(1988)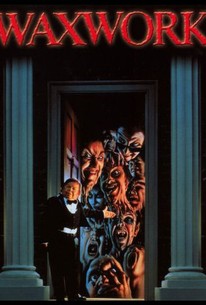 Movie Info
In this horror film, an evil magician creates a wax display of famous monsters and murderers and invites a group of unsuspecting young college students to view the collection. However, when the kids are trapped in the deadly displays, one-by-one they soon discover that the wax models are more than they appear to be.
Critic Reviews for Waxwork
Audience Reviews for Waxwork
½
Entertaining comic horror which see's six young friends lured to a mysterious waxwork museum where the owner has plans to make them part of the exhibit. It's a little silly but a good fun ride all the same. You have a good range of classic monsters on show from Vampires, Zombies and Werewolves and a decent amount of gore too. It all has a rushed feel to it and the editing is very choppy but that just keeps the excitement flowing!
½
Cheesy and campy, but great fun. Lots of eye candy for both sexes too. As long as you don't take it that seriously, then you probably won't be disappointed.
An evil waxwork proprietor uses his occult powers to send teenagers into a lame nightmare worlds inhabited by famous film monsters, which will somehow enable him to take over the world. Competent production values and a tiny bit of humor can't save the tepid teen terror tableaux.
Waxwork Quotes
| | |
| --- | --- |
| China: | Vampires are fiction! |
| Elderly Man: | No! They're real! And they can only be killed by a crucifix, wood through their heart, or decapitation! |
| | |
| --- | --- |
| Mr. Lincoln: | They'll make a movie about anything now a days. |
| | |
| --- | --- |
| Mark: | If those guys are waxworks, they have definitely improved them since I was a kid. |
| | |
| --- | --- |
| Marquis de Sade Girl #3: | Lucky bitch. Just because she is a virgin she gets to get beaten in front of the English Prince? I mean, we were all virgins once. |