Way Down East
(1920)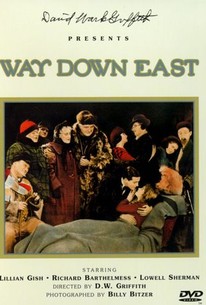 Movie Info
It was not until great directors of the silent era like D. W. Griffith began exploring the medium of film that its possibilities as an art form began to be taken seriously. New York's Museum of Modern Art obtained a set of prints of Griffith's classic 1920 movie Way Down East and restored them, helped along by the rediscovery of the film's original musical score by Louis Silvers and William F. Peters. Major films of the silent era like this one not only had piano scores, but in bigger cities were shown to the accompaniment of a full orchestra. This version restores many secondary scenes which were cut by Griffith himself after the film's initial release in a frantic attempt to seem relevant and "modern." Only a few important scenes (indicated with still photos and title cards) were lost to the ravages of time. The story of the film concerns an innocent New England country girl (Lillian Gish), seduced by a smooth-talking city man who, after he has had his way with her, abandons her to her fate. Desperate, she attempts to return to her Puritanical farming family, but is rejected. This film contains the famous scene in which Gish nearly lost her life as she leapt across an ice floe. The day of the stunt-man had yet to occur, and the genuinely perilous stunts were performed by the stars themselves. Although cinema scholars have praised this restored version, Gish herself was critical of the inclusion of previously cut scenes.
Critic Reviews for Way Down East
Audience Reviews for Way Down East
I thought that 2 h 30 minutes will be too long watching this silent romantic drama directed by D. W. Griffith and starring Lillian Gish. But this adaptation of the melodramatic 19th century play Way Down East by Lottie Blair Parker is for sure the best ever of the four made! There were two earlier silent versions, as well as one sound version from 1935, starring Henry Fonda. D. W.Griffith's version is particularly remembered for its exciting climax in which Lillian Gish's character is rescued from doom on an icy river. Some sources, quoting newspaper ads of the time, say a sequence was filmed in an early colour process, possibly Technicolor or Prizmacolor. I wish I could see that! Mine was all black and white. The melodramatic story of the handsome rich playboy Lennox (Lowell Sherman) who is exceptionally selfish and think only of their own pleasure, and his victim Anna (Lillian Gish), a poor country girl whom Lennox tricks into a fake wedding. When she becomes pregnant, he leaves her. She has the baby, named Trust Lennox, on her own, but the baby dies... she wanders until she gets a job with Squire Bartlett (Burr McIntosh) and David (Richard Barthelmess), Squire Bartlett's son, falls in love with her! Obviously, at that time the institution of marriage was considered as a suitable environment for the growth of love, not as a killer of love which usually is in reality. D.W. Griffith bought the film rights to the story that was elaborated by Joseph R. Grismer. Grismer's wife, the Welsh actress Phoebe Davies, became identified with the play beginning in 1897 and starred in over 4000 performances of it by 1909 making it one of the most popular plays in the United States. Although it was Griffith's most expensive film to date, it was also one of his most commercially successful. Way Down East is the fourth highest grossing silent film in cinema history, taking in more than $4,500,000 at the box office in 1920. Clarine Seymour had appeared in four previous Griffith films, and was hired to play Kate, the squire's niece. However, her role was given to Mary Hay, and Seymour's footage reshot, when Seymour died after surgery. Mary Hay was a worthy replacement! Worth watching not only as a part of the cinematic history, but as an art work of exceptional value.
This was a pretty good movie. It has an interesting story, it's very melodramatic and the actors do a fine job, but I didn't really care much for it.
A rake seduces a woman into a sham marriage then leaves her pregnant to fend for herself. Politically and ideologically, I am diametrically opposed to D.W. Griffith, but when a borderline feminist message about positively treating women began Way Down East, I was briefly optimistic. Then, as I watched the plot unfold, I realized that Griffith's message was confined to not socially ruining women by rakish behavior; the social conventions that confine women remain secure and intact. Women should still be brood mares for the state and men. Griffith's anti-intellectualism is also on display as the mawkish principal dances like an epileptic who doesn't have a roadmap and won't ask for directions. And I don't understand why this man is revered, but his film is so diegetic. Almost incessantly we get title cards judging the characters and introducing the action we're about to see. The captions don't lead us into the scene or make up for the lack of sound; rather, they tell the story twice, once in images and once in text. This is especially true of the unnecessary horse stuck in the road scene. Lillian Gish, Griffith's stalwart champion, does a fine job, but I couldn't help but wonder if she realized how her arch conservatism meant was so tied to a sexist agenda in this film that even if she upheld these values, they would eventually bring her down. Overall, during Way Down East I found myself delighting in watching old silent films because I could be sure that all of the people who worked on it were dead -- even the kitty cat.
Jim Hunter
Super Reviewer
Way Down East Quotes
There are no approved quotes yet for this movie.