The Way of the Gun
(2000)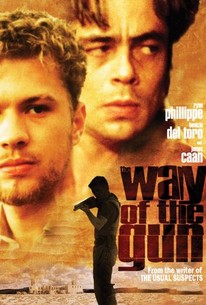 TOMATOMETER
AUDIENCE SCORE
Critic Consensus: Christopher McQuarrie may exhibit a way behind the camera in the stylish The Way of the Gun, but his script falters with dull characterization and a plot so needlessly twisty that most viewers will be ready to tune out before the final reveal.
The Way of the Gun Photos
Movie Info
In this suspense thriller, two small-time crooks make a bid for the big time with disastrous results. Robin (Juliette Lewis) is carrying a child as a surrogate mother for a wealthy couple, Hale and Francesca Chidduck (Scott Wilson and Kristin Lehman) when she's kidnapped by Parker (Ryan Phillippe) and Longbaugh (Benicio Del Toro), who believe that the adoptive parents will pay a large ransom to ensure the safety of both mother and baby. The kidnappers soon discover that they're out of their league when they're confronted by Mafia-connected lawyer Joe Sarno (James Caan) and a pair of hired killers, Jeffers (Taye Diggs) and Obecks (Nicky Katt); at the same time, Parker finds himself increasingly attached to Robin. The Way of the Gun marked the directorial debut of screenwriter Christopher McQuarrie, whose script credits include The Usual Suspects and Public Access. ~ Mark Deming, Rovi
Critic Reviews for The Way of the Gun
Audience Reviews for The Way of the Gun
½
"The Way of the Gun is a pretty good B-movie. The performances are pretty good by most. I usually really like Juliette Lewis, but I didn't care for her acting in this movie. She was just way too dramatic as a pregnant chick. I loved Del Toro in this one. His character was ruthless and honest about his intentions. Phillippe was good in this too. The script is good. But it comes from the same guy who wrote Usual Suspects, so it has to be right? Definitely not as good, but good. The story is about a kidnapping gone bad. A rich couple is paying Robin to be a surrogate for their unborn child. Parker and Longbaugh get wind of how much they are paying Robin to nest their egg and think it would be fast and easy money to hold her for ransom. The 'easy' job turns out to be more than they had anticipated and chaos errupts. Although I did like the movie, I don't think I would watch it again."
♥˩ƳИИ ƜѲѲƉƧ♥
Super Reviewer
Oscar winning screenwriter Christopher McQuarrie made his directorial debut with this slick little crime thriller that has an interesting take on going after the American Dream. Two small-time criminal drifters get far more than they bargained for after they impulsively decide to kidnap the heavily pregnant surrogate mother to a wealthy couple that have powerful, but shady connections. This movie is a lot like an onion: it's complex, densely layered, and really rewarding when you put in the time to get through it. The screenplay is full of great little nuances, depth, and, as I said, a lot of layers. At times it might be a bit too convoluted and even rather pretentious, but that's okay. Compared to a lot of similar post Pulp Fiction indie crime movies, it at least has a lot more thought and intelligence going for it. The action and gunplay are very well done, with great amounts of tension, suspense, and realism. The actors were extensively trained by various firearms experts and people with military backgrounds, and it really shows, since these actors go above and beyond and display a lot of competency, proving quite convincing. The film is kind of a neo-western noir, and it has a great look: very subdued, raw, and gritty. The production design, art direction, and costumes really reflect this, and add some nice layers of symbolism as well. As for the acting, well, Ryan Phillippe sheds his romcom pretty boy image here, sporting a scruffy beard and bad attitude as the more impulsive one of the drifting duo. Benecio del Toro shines as his partner, the more calm, silent, and wise of the two, and they have a great chemistry together that balances out nicely. Juliette Lewis is decent in a tough and limited role as the pregnant surrogate mother. Taye Diggs and Nicky Katt are fun to watch as her two bodyguards who have a very rigid code of professionalism, and James Caan is fantastic as a veteran bag man who connection to all of what happens is far more crucial than it first seems. The film is shot well, has great music, and a fun sense of dark humor to complement it's lurid story. The only thing about the movie that sticks out as weak to me is the stuff involving the character Abner. His stuff just feels a little tacked on and unnecessary, and I think they could have done a better job dealing with it. All in all, this is a great movie that is sadly quite underappreciated. It's smart, thrilling, has brains, and really makes you wish more movies would be made with this type of care. Even if this wasn't one of my favorite films ever, I'd still give it a strong recommendation, because it's excellent.
Chris Weber
Super Reviewer
½
A pair of small time crooks decide to gamble all on a big score when they kidnap the pregnant surrogate mother of a mobster's unborn child. Written and directed by the man responsible for the script for The Usual Suspects, Way Of The Gun may not have the clever twist in the tale of his most famous work, but it is still an extremely stylish and well written crime drama stocked with some smart dialogue and sharply directed Peckinpah-esque shoot-outs. The bare bones of the plot are a little workman-like, but the joy of this film is in the detail; the same old stereotypical events are given a slightly different spin all the way along the line making for a blackly comic, cynical crime drama that is painted in varying shades of dark, dark grey. Very much in the tradition of Tarantino, it's full of colourful characters who are constantly trying to outsmart and double cross each other and it makes for a tangled web of deceit and murder ending in a great Butch and Sundance style finale that I enjoyed immensely. Great stuff.
The Way of the Gun Quotes
| | |
| --- | --- |
| Parker: | Shut that cunts mouth or ill come over there and fuckstart her head! |
| Parker: | Shut that cunts mouth or I'll come over there and fuckstart her head! |