Way of the Wicked
(2014)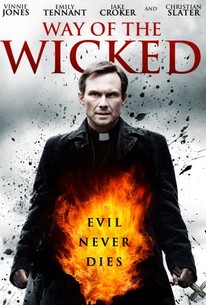 AUDIENCE SCORE
Critic Consensus: No consensus yet.
Movie Info
Years after exorcising secluded community of a malevolent spirit, an enigmatic priest (Christian Slater) suspects that the evil has returned, and seeks the help of a veteran detective (Vinnie Jones) in vanquishing it for good. ~ Jason Buchanan, Rovi
Critic Reviews for Way of the Wicked
Audience Reviews for Way of the Wicked
Damn, I hate that. I started to write my one and a half star review for this about ten minutes from the end. At the start, this looked to me like a good b grade movie. A young boy is beaten after school by a bully, only to have the bully suddenly die painfully without being touched. The kid is just creepy looking enough to make you think this is going to be a good one. As a bonus, it stars Christian Slater as a priest who is following the boy around, convinced he is evil. He and his mum leave town to get away from the stigma. The movie fast forwards to present day. The boy is now in his teens and moves back to town alone. He soon becomes interested in a beautiful former classmate, who has troubles of her own, with a jerk boyfriend and living with her father, who is drinking and working too much, having lost her mother to illness a year ago. Before too long, strange things start to happen again, and the boyfriend has a very unpleasant experience with a truck. Creepy boy is smug and well, creepy, and this is about where the movie lost me, as I started to feel frustrated with the girl and her stupidity hanging around with him. However, ten minutes before the end, something happens that completely made me begrudgingly like this movie after all, and I deleted and rewrote my review. Do not misunderstand me, the movie is a stinker. The acting is atrocious from everyone involved. Visually it is nice to look at and the lead actress is pretty, but she sure isn't convincing. Creepy boy is totally ineffective, and in his case, not even nice to look at. The father is hammy and his accent sounds fake, though I believe it is not. It is a good idea poorly executed. But the ending saves it. Just.
Nicki Marie
Super Reviewer
A thriller? Yeah right...what was the purpose of this? The ending is sloppy and it doesn't give any type of conclusion, it's really poorly made.
Andreia Cordeiro
Super Reviewer
Way of the Wicked Quotes
There are no approved quotes yet for this movie.