The Way We Were
(1973)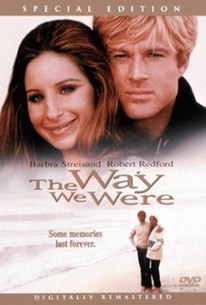 TOMATOMETER
AUDIENCE SCORE
Critic Consensus: The Way We Were is not politically confrontational enough for its story of ideological opposites falling in love to feel authentic, but Barbra Streisand and Robert Redford's beaming star power gives this melodrama romantic lift.
Movie Info
In 1937 spit-fire Katie Morosky briefly meets the preppy Hubbell Gardiner. Almost eight years later, the two are reunited in New York, when leftist radio worker Katie spies military officer Hubbell in a nightclub. The two opposites fall in love and head to Hollywood so that Hubbell can write a screenplay for producer pal J.J. But the House Committee on Un-American Activities' Communist witch hunt in 1947 tears the pair apart, as a pregnant Katie refuses to keep silent about the jailing of the Hollywood Ten, while a faithless Hubbell decides to save his career. When the two meet again in the 1960s, TV writer Hubbell and nuclear protestor Katie feel that old pull again, but they have to decide if they have what it takes for the long run.
Critic Reviews for The Way We Were
Audience Reviews for The Way We Were
Streisand and Redford have no chemistry together, the dialogue is usually awkward and awful, the love story is completely artificial and Streisand's character is so insufferably anal that it is hard to believe that anyone would ever fall in love with someone like that.
Carlos Magalhães
Super Reviewer
This movie starts out with heated sociopolitical debate and a great feminist role model, but then brassy, independent Katie devolves into Overly Attached Girlfriend - fawning over Hubbell, the poor little rich boy with a streak of writing talent, who buys her a beer and patronizingly ties her freakin' shoe? (I hate all shoe-tying imagery in art! I hate it when looks-so-much-like-his-dead-mother Ginny does it to Harry Potter. I hate it when Ted does it to baby-talking Boats-Boats-Boats Becky on HIMYM. I surprisingly don't mind glass slipper symbology because it's quick, okay? You just slip it on. "It's the condom of our generation." Tying a shoe is a ham-handed, Oedipal commitment of a romantic gesture.) Anyway, Katie essentially rapes him and ropes him into falling in love with her, but she's made to apologize so much for her tempestuousness and "wrong style" while Robert Redford's dead eyes glaze over in a masquerade of privileged, white, liberal ennui. The flashback structure of the film's beginning is also wasted. I thought YEARS had gone by before they meet again and that the whole movie would be about their college relationship and "the way they were"... The movie gets so episodic after that inciting incident, documenting every bit of grueling conflict contributing to their doomed partnership. A donnee or redemption moment nearly appears when Katie shouts, "You'll never find anyone as good for you as I am, to believe in you as much as I do or to love you as much!" but it's too late. They're still wrong for each other, but we're never given a convincing enough reason in the script or the performances for why they got together in the first place and why they stayed together for so long. And he never meets their daughter? Weird. Highlight is Barbra Streisand's soaring mezzo-soprano in Marvin Hamlisch's titular song.
Alice Shen
Super Reviewer
Set against the background of political turmoil, a radical and a milquetoast writer fall in love. A saccharine love story, when this film succeeds it's because Robert Redford was just absolutely dreamy in his prime. He was also a great actor, working with a subtle strength and playing off his natural magnetism. However, most of the time, there is little that any actor can do to save this meandering script. There is a certain truth to relationships that flounder because there is too much work involved, but this theme is more developed in real life than in cinema, and this film doesn't do much original. I've never been a fan of Barbra Streisand as a cultural icon or as an actress, and while I can't say that there was anything horrible about her acting, there wasn't anything extraordinary either. Overall, this film is another reason to love Redford, but the story is weak.
Jim Hunter
Super Reviewer