Wayne's World 2
(1993)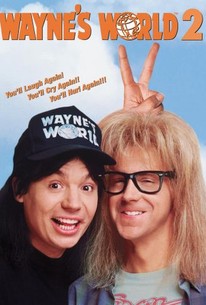 Movie Info
This sequel to the hit comedy focuses on the attempts of Wayne and Garth to organize Waynestock, a gigantic rock festival. Trouble comes, however, when a sleazy music executive begins to woo Wayne's girlfriend with promises of fame and fortune, and Wayne must attempt to win her back.
Critic Reviews for Wayne's World 2
Audience Reviews for Wayne's World 2
It didn't live up to the first, this was just stupid and not funny, and it wasn't the cool stupid like the first.
Jim Careter
Super Reviewer
One of the best comedy sequels ever made, it follows the first movie exactly, doesn't change any actors, and it is just as funny without reusing all the same jokes. And it's based on the popular SNL sketch. I highly recommend this movie, it's the funniest sequel of the 90s.
It doesn't equal or surpass the first, but this is still a good sequel, and a decent film in general. Surjik isn't quite as good a director as Spheeris, and some scenes go on a bit too long, but overall, this is an okay movie.
Chris Weber
Super Reviewer
Wayne's World 2 Quotes
| | |
| --- | --- |
| Del Preston: | Now. It take two people to run a stage. One out front, and one backstage. Now Garth will be out her in the front with his team, and Wayne will be backstage with his team. To the left and right will be the machine gun nests. Now these babies tend to heat up, so shoot in three second bursts. In the event of capture, I will personally be issuing cyanide pills to be placed under the tongue, as so. [places a cyanide capsule under his tongue] Any questions? |
| Garth Algar: | Uh, yeah, I have a question. When did you turn into a nut bar? |
| | |
| --- | --- |
| Wayne Campbell: | Come on Garth. Well, I guess Jim was wrong. |
| Del Preston: | Hang about! Do you mean Jim.... Morrison? |
| Wayne Campbell: | Yes! |
| Del Preston: | Was there a weird naked indian with him? |
| Wayne Campbell: | Yes!!! |
| Del Preston: | Didn't you think it was a little bit unnecessary to see the crack in the indian's bottom? |
| Wayne Campbell: | YES!!!! Yes, I totally did!! |
| Del Preston: | I had the same dream. |