W.E.
(2012)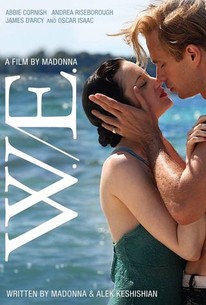 TOMATOMETER
AUDIENCE SCORE
Critic Consensus: W.E. exhibits director Madonna's keen eye for striking style, but this shallow biopic is too enamored with aesthetics to offer any insight into its subject.
Movie Info
W.E. tells the story of two fragile but determined women - Wally Winthrop and Wallis Simpson - separated by more than six decades. In 1998, lonely New Yorker Wally Winthrop (Abbie Cornish) is obsessed with what she perceives as the ultimate love story: King Edward's VIII's abdication of the British throne for the woman he loved, American divorcée Wallis Simpson. But Wally's research, including several visits to the Sotheby's auction of the Windsor Estate, reveals that the couple's life together was not as perfect as she thought. Weaving back and forth in time, W.E. intertwines Wally's journey of discovery in New York with the story of Wallis (Andrea Riseborough) and Edward (James D'Arcy), from the glamorous early days of their romance to the slow unraveling of their lives in the decades that followed. -- (C) Weinstein
Audience Reviews for W.E.
Madonna employs her shallow view of life in this self-indulgent project of pure vanity to tell two insipid stories that hardly blend together, creating an excruciating and unfocused mess about two pathetic women full of self-pity and with no self-respect.
Carlos Magalhães
Super Reviewer
½
Stylish to the point of being strange. The film seemed lifeless and lacking any significant point or emotion. This film would have made more sense as a photo shoot. "W.E." should be renamed "W.T.F.?"
Christian C
Super Reviewer
Not sure what I think of this one. First the pluses. The movie certainly looks stylish. It's filmed beautifully and I love the outfits and make up used for the "period" parts. Abbie Cornish is great, as is the actress who plays the first Wally. If directing a movie is just about getting things to "look" right and choosing a good cast, then Madonna has done a great job. I did think the "pretty vacant" scene was similar to one in "Marie Antoinette", though. Now the not so good, the story was a bit hard to follow. I didn't understand Abbie's fascination with the first Wally aside from she was named after her. I also thought it floundered in the parts she "saw" and spoke to the original Wally. I didn't really understand the relationships with Wally and her husband and the King, and the beating scene, that was kind of out of nowhere. To be honest, the guys in this are pretty wooden and I couldn't really tell one from the other. Not entirely sure which one beat the first Wally and where the miscarriage came into it. The more modern story was easier to follow. Wally was pretty much married to a jerk, although I can see where her baby obsession must have been pretty annoying. I couldn't understand why she would even want to be with him considering, let alone have children with him. The security guard guy was a bit creepy too. The bit where he says she reminds him of his dead wife. Um. Great. Overall, a movie that looks great and keeps you watching, but a bit low on believability.
Nicki Marie
Super Reviewer
W.E. Quotes
| | |
| --- | --- |
| Wallis Simpson: | You have no idea how hard it is to live out the greatest love romance of the century. And now I will have to be with him always and always and always. |
| | |
| --- | --- |
| Wallis Simpson: | Attractive is just a polite way of saying you've done the best with what you've got. All i could hope to do was dress the best and if everyone turned to look at me when i walked into the room, well, i knew my husband would be happy. |
| Wallis Simpson: | Attractive is just a polite way of saying you've done the best with what you've got. All I could hope to do was dress the best and if everyone turned to look at me when I walked into the room, well, I knew my husband would be happy. |
| | |
| --- | --- |
| Wallis Simpson: | darling they can't hurt you; unless you let them. |
| Wallis Simpson: | Darling, they can't hurt you unless you let them. |