We Are Still Here
(2015)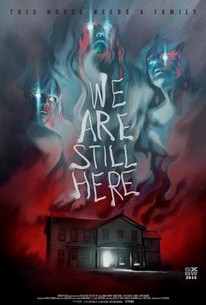 TOMATOMETER
AUDIENCE SCORE
Critic Consensus: Smart, powerfully acted, and devilishly clever, We Are Still Here offers some novel twists on familiar territory -- and heralds the arrival of a major talent in writer-director Ted Geoghegan.
Movie Info
In the cold, wintery fields of New England, a lonely old house wakes up every thirty years - and demands a sacrifice.
News & Interviews for We Are Still Here
Critic Reviews for We Are Still Here
Audience Reviews for We Are Still Here
½
It is easy to see what Geoghegan is trying to do with this old-school throwback to the horror movies of the 1970s, but while it is creepy, well paced and really scary, it is also very badly written to the point that nothing makes sense and I can't make heads and tails of it.
Carlos Magalhães
Super Reviewer
½
I've been looking forward to this movie for some time now. It's actually not even that long ago now, I'd say around a month, and I can say that I definitely wasn't disappointed by this movie. As far as haunted house horror movies go, and describing this movie as just a haunted house flick is vastly underselling it, but I think this might be the best I've seen since The Conjuring. Though, honestly, I think The Conjuring does a better job at getting conventional scares out of the concept, whereas this one tries to do something different with it. Visually, the film reminds me very much of The House of the Devil, it almost feels like both films could actually exist in the same universe. Though, to be fair, House of the Devil does, for most of its running length, deal with something that's more 'realistic', per se, than this one, where it's clearly all supernatural. But I thought the movie was really well-paced and it built well. The story, or what's going on in the house, is established fairly quickly and it's just a point of giving you little bits and pieces of information until you get to the last act, where it goes all out. That's not to say that there is a lack of horror until that point, because there isn't. Actually, this might be one of the more balanced horror movies I've seen this year in terms of balancing horror and exposition. It's not a slow-paced movie at all. I wouldn't say it's fast paced either, it's just perfect as far as pacing goes honestly. There's a lot of tension here that keeps building and building up until its insane climax. I know I'm sort of raving about the movie, but it's definitely not without its issues. They never make it exactly clear what's going on here in the house, whether it's the house that demands the sacrifice or it's the Dagmars. And it's not like they were trying to be subtle about it, this was a big reveal at the end of the film, where, the patriarch of the Dagmar family, states that his family wasn't run out of town, but were in fact sacrificed to the house. And that brings up more questions than it does answers. Why does the house require a sacrifice? And how did the house go about sacrificing the families that have the unfortunate 'honor' of living in this house. It sort of makes sense when the Dagmar family does it, within its context of course, but it brings up questions that need explaining when you say that it's just the house that demands it and not the vengeful family. And, another thing, if the Dagmar could just come out and murder people, as they did with Bobby's friend and his girlfriend, then why did they not immediately murder Anne and Paul upon moving into the house? Were they not a 'family'? And there's also the fact that Anne and Paul were allowed to live. Though I can tolerate the latter more, because it opens things up to debate. The other ones bother me because it changes on something the film already stated as fact without giving you so much of an explanation as to why that was. So it's just strange to me that movie so well-crafted, so taut and intelligent could have those types of flaws. The acting is also really quite strong, it helps that they have a really good script to work with, outside of the aforementioned issues. This might not be my favorite horror movie of the year, that honor would go to It Follows, but it's still a really damn good horror film. It's smart and it builds tension really well and the climax is pretty damn crazy. This may have its flaws, but I'd still recommend this wholeheartedly. Horror nerds will love this.
Jesse Ortega
Super Reviewer
Some of it's plot is half baked, there are some really weak performances, but the utterly shocking and wonderfully gory finale makes the whole movie worth a viewing.
Alec Barniskis
Super Reviewer
We Are Still Here Quotes
| | |
| --- | --- |
| Dave McCabe: | "You're not leaving here. You stay, you satisfy the darkness." |
| Dave McCabe: | You're not leaving here. You stay, you satisfy the darkness. |