We Bought a Zoo
(2011)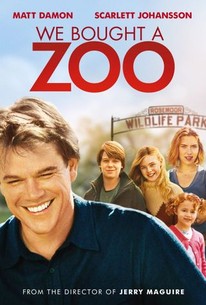 TOMATOMETER
AUDIENCE SCORE
Critic Consensus: We Bought a Zoo is a transparently cloying effort by director Cameron Crowe, but Matt Damon makes for a sympathetic central character.
Movie Info
This holiday season, acclaimed filmmaker Cameron Crowe (Jerry Maguire, Almost Famous) directs an amazing and true story about a single dad who decides his family needs a fresh start, so he and his two children move to the most unlikely of places: a zoo. With the help of an eclectic staff, and with many misadventures along the way, the family works to return the dilapidated zoo to its former wonder and glory. -- (C) Official Site
Critic Reviews for We Bought a Zoo
Audience Reviews for We Bought a Zoo
Cameron Crowe aims for the Disney audience with this obvious-as-a-grammar school play crowd pleasing story about a single dad trying to raise his coming of age difficult children. I've actually given the whole film away by now except for the cute animal instagrams spread throughout. It was interesting to see Matt Damon and Scarlett Johansson cover more down to earth material than the fantasy that is so prevalent nowadays, and both actors seem to warm to the presentation as well. One aspect Crowe nails is how aggravating teens are to everyone, quite without the artifice of most productions.
Kevin M. Williams
Super Reviewer
½
Let's be honest, Crowe's older films had much more energy, honesty and unpredictability. Here, you know immediately what you are getting, and you are getting a lot of it. Family drama, cute animal humor, romance, and the notion that hard work can make you achieve anything. That's naive and sometimes even a bit annoying. And yet the film ends of engaging you after all, because of the likable characters and Crowe's instinct to use the right song for the right scene. By the wonderful ending the film has won you over and you can't help but sit there with a bug stupid grin on your face. It then adds a real tear-jerker of a final scene that gives it all more depth than you got for two hours before that. Quite a feat.
½
I've always enjoyed Cameron Crowe's work; he has a nice touch that brings a unique viewing experience. With We Bought a Zoo, he crafts a fun little film that does show limitations and could have been a bit better considering the premise of the film. Despite this, this is a fun little film that has heart and is among Cameron Crowe's best in several years. Crowe has always had a good eye for what makes for a fun crowd pleaser, and though this is far from perfect, he manages to deliver a film that should appeal to the entire family. There are parts that could have been reworked a bit, but overall this film works well enough to be worth seeing. With that said, the film is a heartwarming drama that really is well acted and is truly terrific. Acting wise, there are some very good performances and Matt Damon really delivers something special here. This is an underrated film that is fun from start to finish. I very much enjoyed watching this, and I felt it had enough elements to make this a worthwhile feel good movie. Cameron Crowe knows how to create something special and he captures a wonderful story. With a great cast, great acting and an interesting plot, We Bought a Zoo overcomes its imperfections to really bring out a very well crafted drama. Expect a wonderful film and don't believe the flack the film has received because it is a true life story that is simply engaging and memorable.
We Bought a Zoo Quotes
| | |
| --- | --- |
| Benjamin Mee: | You know, sometimes all you need is twenty seconds of insane courage. Just literally twenty seconds of just embarrassing bravery. And I promise you, something great will come of it. |
| | |
| --- | --- |
| Rosie Mee: | What about the easter bunny? |
| | |
| --- | --- |
| Benjamin Mee: | Lets go on the road, Dylan, we'll be hobos |
| Benjamin Mee: | Lets go on the road, Dylan, we'll be hobos. |
| | |
| --- | --- |
| Dylan Mee: | You hate me!!! |
| Dylan Mee: | You hate me! |
| Benjamin Mee: | We had some problems but we'll figger it out |
| Benjamin Mee: | We had some problems but we'll figure it out. |