We Go On
(2016)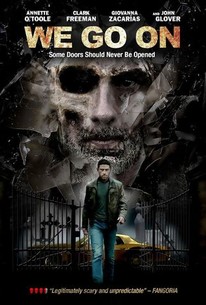 Movie Info
WE GO ON tells the story of one man's quest to find out if there is more out there after we die. Paralyzed by his fear of dying, Miles Grissom offers a cash reward to the first person who can show him a ghost, an angel, a demon anything that can prove that we go on after our deaths. He narrows the responses down to three viable candidates a scientist, a medium, and a worldly entrepreneur. Along with his fiercely protective mother, he embarks on an adventure that will spiral into an unthinkable nightmare.
Critic Reviews for We Go On
Audience Reviews for We Go On
The subject of death in films has been explore countless times. And that's not even getting into horror films per se which, in some form or another, a great chunk of them revolve around the themes of death or feature someone dying. I'd go so far as to say that 95% (or more) of films within the horror spectrum touch on that particular subject. Not saying that it's always thoughtful as, an example, the Friday the 13th franchise isn't exactly a thoughtful examination on our mortality and what some of us do to avoid that inevitability. I think death is something that we don't even bat an eye for anymore, that's how desensitized we've become to it. That's why it's always surprising when a film such as this comes along that, as I mentioned earlier, takes a more thoughtful approach to the themes of death and our mortality than a lot of horror movies. That's not to say that this movie is completely and utterly unique in this vast ocean that is horror, but I do still appreciate the effort put in to be more thoughtful, to tell a more introspective story on the ghosts we carry with us, both figurative and literal, and to not just use this concept in order to provide scares, something that they very easily could have done. And it's not that they don't use it to also put in a decent amount of scares, but that's not the end-all, be-all for this movie. It's about telling Miles' story as he searches for answers about what happens when we die. For, you see, Miles is quite literally afraid of everything as a result of his father dying in a car accident at the age of three. As a result of that, he's lived his life in fear of everything. He puts an ad up in the paper asking people that if they're able to provide definitive proof that there's...something after death, he'll give them $30,000 of his own money, just for his piece of mind. Miles himself is, clearly, a very paranoid and uptight character and you can sense this from just the way he walks, it's like, at either side of his body, there are walls that are closing around him. His movements reflect that. Ultimately, he gets thousands of videos of people trying to con him. He narrows it down to three choices. Two of the choices end up being fakes, while the third one is believed to be fake at first, but ends up helping Miles. Long story short, he ends up meeting someone who, in fact, ends up being a ghost and this ghost shows Miles his own corpse. This ties the ghost to Miles and, essentially, they're bound together until Miles kills Nelson's (the ghost) ex or Miles dies. This is when Josefina, who I mentioned was believed to be a fake, comes in. She sees ghosts just as Miles does and she helps him come to terms with it. In many ways, what I like about the movie is the fact that there's actual progression here. Miles, in some ways, while finding exactly what he found, becomes more paranoid at first, given that he sees people that aren't there all the time (same as Josefina), constantly see horrible images when he closes his eyes. But, through Josefina's help, he comes to be accepting of the fact that Nelson's ghost is now tied to him for life. If that is what he must do in order to save an innocent human being from being murdered, then that is what he will do. Of course, this ends up turning around on Miles in a way that he was not expecting as this woman, who can also see Nelson at times when she's in Miles' presence, shoots Miles to get rid of Nelson. I know that it seems like I'm oversimplifying the movie, but I really did like it. It explores these themes of death, mortality, suicide, the connection a mother feels to her son, in Miles' mother's case and Alice's (the woman who shoots Miles) case, as well, intelligently and thoughtfully. And credit where credit is due, Clark Freeman (Miles) is very good in this movie. I think he's better at the physicality of the character, just selling how paranoid he is by the way he walks and his body language, but he's still a core component of why the movie works. The script is also good, they do a great job at exploring the baggage this might create on someone like Miles and Josefina but, in a way, they find a way to not make it seem as bad in terms of how Miles decides to deal with it. There's a scene where he explains to his mother, after Miles refuses to kill Alice, of how he's gonna deal with Nelson for the rest of his life and it's just really well done in how they take something that's, quite frankly, awful and try to find something 'positive' about the experience, for Miles at least. In a lot of ways, this experience helps him sort of overcome the fear of death and everything around him and that part of Miles' progression does not feel forced or unnatural. This isn't a perfect movie and, to me, it falls JUST short of being really good. It was honestly just kind of missing something and I can't quite put my finger as to what it was. But don't let that dissuade you from giving this a shot, particularly if you value creativity in horror. And, to be fair, like I mentioned earlier, it's not like this is gonna revolutionize the genre, but it does what it does quite well and it does so in a way that feels fresh. Good script, solid performances and a strong story/character arc all add up to make this a good movie. Can't say you should go out of your way to see it if you want something more casual in terms of horror. But if you're a hardcore fan, I think this will offer a lot to like and discuss. This review may have sucked, but I really did like this movie a bit. This is quite underrated, maybe even by myself as well.
Jesse Ortega
Super Reviewer
We Go On Quotes
There are no approved quotes yet for this movie.