We Live Again
(1934)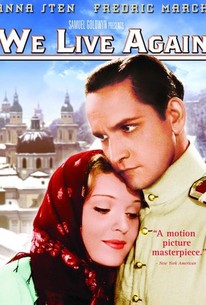 AUDIENCE SCORE
Critic Consensus: No consensus yet.
Movie Info
We Live Again was based on Tolstoy's Resurrection; the title was changed upon producer Sam Goldwyn's theory that it meant the same thing as Resurrection and was easier to understand. The film was meant as an introductory showcase for Goldwyn's latest discovery, Russian actress Anna Sten. The story, much laundered from the Tolstoy original, depicts the downfall of a peasant girl who is seduced by a Russian prince (Fredric March). The once-callous nobleman tries to make amends for the hurt he has inflicted on the girl, who has wound up in prison for solicitation. The first American version of Resurrection, directed by D. W. Griffith, was made in 1909 and lasted ten minutes.
Critic Reviews for We Live Again
Audience Reviews for We Live Again
Dull, pedestrian drama starring Goldwyn's folly Anna Sten. While she isn't bad she didn't possess the star impact that is essential to carry a film. Of course it doesn't help that the screenwriters try and compress a Tolstoy story into less than an hour and a half and fail. High production values but if never seems anything else but a setbound play and not a compelling one.
We Live Again Quotes
There are no approved quotes yet for this movie.