We Own the Night
(2007)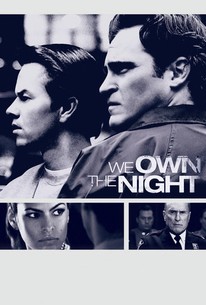 Movie Info
At the height of a bloody 1980s struggle between New York City police and a Russian mob that targeted law officers and their families, the NYPD hung "We Own the Night" banners in precinct houses and stepped up their efforts.
Critic Reviews for We Own the Night
Audience Reviews for We Own the Night
We Own The Night" isn't what I thought it would be at first - another undercover cop movie. It's a pretty unique crime/drama with emphasis on the drama that depicts the aftermath of a police operation gone wrong. Joaquin Phoenix and Mark Wahlberg play two brothers whose lives have taken different turns, but who are brought back together when the Russian Mafia threatens to destroy their family. Writer/director James Gray's movie is a tense and gripping affair. The characters are shaped well and embodied perfectly by the actors (although Mark Wahlberg is really just playing the quiet, aggressive guy that he's always playing once more). There's a pretty exciting car chase in there and a bugging operation that will make you cringe with fear for the main character. That said, the movie isn't without its flaws. The first half drags on a bit, then it all goes too fast. Joaquin Phoenix' character becomes a policeman literally overnight and suddenly there's a concluding showdown, which comes out of nowhere and ends with a pretty unspectacular shootout. On top of that, most of the movie plays like a sequence of short episodes rather than one continuous story. Phoenix' character is too much in the focus of the story and the characters played by Eva Mendes and Mark Wahlberg just kind of enter and leave the plot without having too much of an impact on anything. Make no mistake, though, this is one of the best gangster movies of 2007 (just after "Eastern Promises" and way ahead of "American Gangster"), although it is much closer in atmosphere to David Fincher's character-driven "Zodiac". And Joaquin Phoenix is so good, he was robbed of an Academy Awards nomination. 10-25-13 5 stars
Bruce Bruce
Super Reviewer
½
Pretty good drama, We Own The Night is supported by a good cast and has a very good story. However I was bit let down. The acting was great, the performance by the three lead actors were just wonderful. However I felt that towards the end of the film, director James Gray rushed to try and conclude his film. The film started swell, and despite the fact that lacks a bit near the end, it's still a film worth watching. I very much enjoyed the plot of this film, and it had the right amount of drama, and sometimes action. I just feel that more effort could have been put into the ending. Other than that, this is a good film with a good plot, and great performances. This is a film worth watching and the cast make this film worth seeing. Although it's flawed near the end, the film has a very good first half. There's plenty to enjoy here, and the film succeeds at being a compelling drama about a family separated by law and crime. What really stood out in this film was Joaquin Phoenix's performance as Bobby Green a night club manager whose father and brother are cops. The thing that stood was how he ultimately made the choice of going to honest route once his life was threatened. The chemistry between Robert Duvall, Mark Wahlberg and Joaquin Phoenix is the standout of this film, and more than makes up for the rushed ending. This is a very good film, but one that also could have been much better.
½
Strangely polarizing film, among my friends, but I really liked this one. The acting is very good, and the story is searing, straight-forward good-brother/bad-brother stuff. Robert Duvall's turn as the brothers' father was excellent, and, (as he proves every year, now, it seems), Mark Wahlberg was born to play cops. The film wobbles as it approaches the end: some scenes are flabby, or unnecessary, or just too slow, and the climactic final shootout is a little bizarre. And yet, the whole thing was quite artful, walking the line between popcorn and noir. Stylistically wonderful, and generally a tense film, it sucks you in and your attention is rewarded. Gripping, entertaining film.
Daniel Perry
Super Reviewer
We Own the Night Quotes
There are no approved quotes yet for this movie.