The Weather Man
(2005)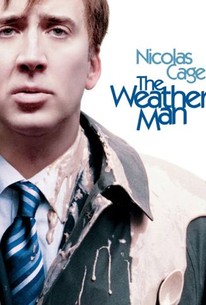 TOMATOMETER
AUDIENCE SCORE
Critic Consensus: With fine performances and a dark, dry sense of humor, The Weather Man is mostly cloudy with occasional rays of sunshine.
Movie Info
A man struggles to get a grip on a life that's spinning out of control in this emotional comedy drama. Dave Spritz (Nicolas Cage) is a television weatherman on a high-profile Chicago news program. Professionally, Dave is doing just fine -- he makes great money for a job that demands little effort, and he has a shot at an assignment with a network morning news and chat show. But Dave's personal life leaves a lot to be desired -- his father, respected author Robert Spritzel (Michael Caine), is in failing health, he's divorced from his wife, Noreen (Hope Davis), and his relationship with his children is tenuous at best, especially his overweight daughter, Shelly (Gemmenne de la Pena). If Dave is to land his new job, he'll have to move to New York City, and with his time in Chicago running short, he dedicates himself to trying to salvage his ties with his family before it's too late, though he discovers this is even harder than he imagines.
News & Interviews for The Weather Man
Critic Reviews for The Weather Man
Audience Reviews for The Weather Man
I can't quite diagnose what makes this movie tick... It's got problems, but it kinda works, much like Hans Zimmer's annoying yet irresistible tick-tocking score and Nicolas Cage's obnoxious, yet irresistible doofy-faced appeal, which I guess is why he still gets work. Steve Conrad's non-linear script is expertly paced with emotionally-based plot points. He captures daily tragedies and triumphs with an insightful, darkly comedic eye. Michael Caine is the best I've ever seen him - staid and grave with much pomp and circumstance.
Alice Shen
Super Reviewer
½
This is the type of movie that Cage should be doing more often. Serious, well written character based dark dramedies. Don't get me wrong, the "fluff" he does is entertaining, but it gets old. Movies like this is where he really shines. It also helps that this is a smaller movie from Verbinski, and, at the time it was released, was a nice break between Pirates movies. This is a very underrated film, and although I don't agree with that, I can see why. I really think more people should give this a chance. It's a good movie. Somewhat similar to American Beauty, and it has a nice message, even if not one of the characters is really sympathetic...kind of like life sometimes.
Chris Weber
Super Reviewer
½
Noreen: You know what, Dave? You want to know why my BJs lacked enthusiasm? I hated you. I hated your hair. I hated your ugly legs, your forearms. I hated kissing your lips, Dave. Okay? And that's why I lacked enthusiasm when your cock was in my mouth.  "... bring an umbrella"  The Weather Man isn't the type of movie where there's any excitement. It isn't a comedy with a ton of laughs. When there's humor, it tends to be pretty dry. This is a dark, character study, dramedy. I'm not going to say it is a great movie, because I don't believe that to be true. I do, however, think it is a worthwhile film. Gore Verbinski can always bring style to his films, and he does again with The Weather Man. Maybe its style isn't like that of Pirates of the Caribbean or The Ring, but it's still there. A weather man out of Chicago named Dave Spritz(changed from Spritzle because Spritz sounds refreshing) is getting looked at by Hello America in New York. The job would mean that he would make around a million dollars a year. It may sound like his life is great. Unfortunately it isn't. His father is dying, he's divorced and his ex-wife wants little to do with him, and his kids are dealing with all the problems kids have to deal with the added problem of their parents being divorced. So, maybe things aren't all that great for Dave after all. The Weather Man is the type of movie I love seeing Nicolas Cage in. He's made for movies like this, not Ghostrider or Season of the Witch. No, he's made for movies like The Weather Man, Leaving Las Vegas, and Matchstick Men. Okay, so I'm a Cage fan. I always have to argue with people who say he's a horrible actor. Just because the only movies you've seen him star in are the garbage mainstream films that get forced down your throat doesn't mean he's a bad actor. It means he's an increasingly lazy one. He's taking a lot of money to star in bad movies, and when actors star in badly written and plotted films; they're acting reflects that. Go watch Leaving Las Vegas and then tell me Nicolas Cage is a bad actor. That's what I tell everyone. I will say, I am beginning to lose respect for Cage because he hasn't challenged himself for awhile and he keeps making mindless movies, but never will I say that he is a bad actor. Never. My favorite parts of The Weather Man are when Cage and Caine were onscreen together. Caine is a favorite of mine and I thought the two of them were phenomenal together.  A lot of people have criticized the movie for not being able to care about the lead character. I can't argue with that statement, as the characters for whom we care about, has to do a lot with the person watching it. All I will say is that I was able to sympathize with him and I did care about him. Overall I think this is an underrated film. It's not a movie that will change the way you look at life or movies for that matter, but it is one that deserved a little better reception then it ended up getting. 
Melvin White
Super Reviewer
The Weather Man Quotes
| | |
| --- | --- |
| Noreen Spritz: | You know what, Dave? You want to know why my BJs lacked enthusiasm? I hated you. I hated your hair. I hated your ugly legs, your forearms. I hated kissing your lips, Dave. Okay? And that's why I lacked enthusiasm when your cock was in my mouth. |
| Noreen Spritz: | You know what, Dave? You want to know why my BJ's lacked enthusiasm? I hated you. I hated your hair. I hated your ugly legs, your forearms. I hated kissing your lips, Dave. Okay? And that's why I lacked enthusiasm when your cock was in my mouth. |
| | |
| --- | --- |
| Dave Spritz: | Tartar sauce, tartar sauce, tartar sauce... |
| | |
| --- | --- |
| Dave Spritz: | Man, I'd like to put my face in there. Right in there. Tartar sauce. My hips are cold. Tartar sauce. That's when you know its cold. I like eating pussy. Tartar sauce. A lot of guys don't. Well maybe they do. Maybe that's just black guys. Tartar sauce. What happened to the guy who was trying to fly around the world in a balloon? Did he make it? I should put some espionage or stolen plutonium in my novel. Tartar sauce. Spice it up. Neil Young. Fuck, its cold. Neil Young. Wh-why am I thinking about Neil Young. Neil Diamond. Neil... Theres not a lot of famous Neils. Is this Wednesday? I wish I had two dicks. I thought the whole family was going to learn Spanish together this year. That never really happened. I haven't had a Spanish omelette in a long time. Here we go. |
| | |
| --- | --- |
| Robert Spritzel: | Do you know that the harder thing to do and the right thing to do are usually the same thing? Nothing that has meaning is easy. "Easy" doesn't enter into grown-up life. |
| Robert Spritzel: | Do you know that the harder thing to do and the right thing to do are usually the same thing? Nothing that has meaning is easy. 'Easy' doesn't enter into grown-up life. |