The Marconi Bros. (The Wedding Bros.)
(2008)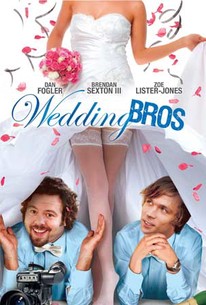 AUDIENCE SCORE
Critic Consensus: No consensus yet.
The Marconi Bros. (The Wedding Bros.) Photos
Movie Info
Two brothers dutifully working the days away at the family carpet business attempt to assert their independence by going to work for the king of Long Island wedding videographers, only to find their new careers floundering when they are forced to move into a cramped studio apartment. It's been five years, three months, and 26 days since Anthony and Carmine Marconi went to work at their father's carpet store, and now both brothers are beginning to fear that their lives have hit a standstill. When he's not slaving away full-time amidst endless yards of carpet, Anthony is attempting to balance a full load of classes at the local community college. Meanwhile, brother Carmine is hoping to strike it rich by playing the tables in Atlantic City and buying scratch-off cards. One day, during a routine carpet installation, the brothers' fate takes an unexpected turn when they cross paths with Maurice "Mo" Brown -- a fast-talking wedding-video producer with some flashy toys and sexy "secretaries." Though Anthony and Carmine miraculously manage to land positions as Mo's new assistants, their father doesn't take the news too well; he immediately slaps them each with a 500-dollar-a-month boarding fee. Now, for the first time in their lives, Anthony and Carmine are on their own, and they're working for a certifiable lunatic who calls wedding shots like he's Cecil B. DeMille and flies into an uncontrollable rage at the sight of his alcoholic ex-partner and wife, Sonya -- the in-house wedding photographer. To make matters even worse, Anthony has started an affair with Sonya's assistant and Carmine has just screwed up the audio on the wedding vows. With time running out before Mo catches wind of the latest disaster, Anthony and Carmine will have to work overtime if they hope to keep their jobs and save their necks.
Critic Reviews for The Marconi Bros. (The Wedding Bros.)
All Critics (2) | Fresh (0) | Rotten (2) | DVD (1)
It's not that the story is hard to fathom. Rather, the movie plods through its scenes and never really finds a track, let alone stays on it.
The film is not funny or silly or screwy or madcap or witty or sardonic or satiric. It's just dull.
Audience Reviews for The Marconi Bros. (The Wedding Bros.)
I could definately skip this one next time. It does have a fewfunny moments and Jon Polito is hilarious, but it wasn't enough to carry it through.
Sarah Prisbylla
Super Reviewer
The Marconi Bros. (The Wedding Bros.) Quotes
There are no approved quotes yet for this movie.