Wedding Palace
(2013)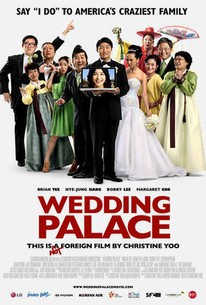 Movie Info
Abandoned at the altar, Jason's (BrianTee) family quickly introduces him to other eager brides in waiting but to their horror, he rejects them all. The clock is literally ticking on Jason's life as his 30th birthday is fast approaching, bringing along an old family curse. On a business trip to Korea, Jason meets the girl of his dreams, Na Young (Kang Hye-jung). They embark on a cyber love affair fueled by imagination and video chats. Jason proposes and his family is beyonddelighted. However when Na Young arrives in Los Angeles with a surprising revelation, Jason has hesitations and his wacky family goes overboard causing a roller coaster of ups-and-downs at every turn in this modern romance. Jason will have to bridge the gapbetween family expectationsand being true to himself to find his true love.
Critic Reviews for Wedding Palace
Audience Reviews for Wedding Palace
Not necessarily a bad movie per se, it's just one that focuses too much on the romance aspect, which is understandable, since that is what the film is about. The film relies on a lot of the stereotypes of Asian families, that they're controlling and want to tell their children who and when to marry, but the best bits in the entire movie are when Jason's family are trying to tell him what to do and who to marry and how they react to Na-young's diminutive stature. It's clearly over-the-top and unrealistic, but they do provide some fairly amusing moments. The problem with the romantic parts of the film is that they're really cheesy. I know this is a fictional work of art, but there's nothing that no one can relate to about anything in this movie. Seriously. Well maybe they can relate to parts of it, but the film pretty much takes it to a whole other level in terms of unbelievable situations. And I get that that's what some people want, the whole whirlwind romance, but I'm more into movies where the romance is, at least, somewhat believable. You don't ever sense that between Jason and Na-young. Not to mention that the chemistry is lacking. They're not bad or anything, but there's just something missing. Not to mention that the characters are fairly dull and vanilla. Perhaps that's a large part of it, the characters don't feel fully formed. They're one-dimensional. Likable, but one-dimensional. Kang Hye Jung is adorable, but there's some scenes where her acting just leaves a lot to be desired. There's one scene, when Jason goes after his ex, where Na-Young gives Jason a piece of his mind in a monologue and it's not particularly good. I mean it's obvious that english isn't her native tongue, but they should've known enough not to give her long monologues like that. She's perfectly fine in scenes with shorter dialogue. The climax is pretty much every rom-com climax you've ever seen, where Na-Young is on the plane to go back to Korea and Jason does everything within his power to get there before her plane leaves. You've seen it before and you will, probably, see it again. It's no better or worse here. It is what it is. Cast is solid, though, again, I wish Jason's family would've been a bigger part of the proceedings as it led to some of the more entertaining moments in the film. It wasn't great or anything, but at least it was something. Na-young's and Jason's romance just did nothing for me. And since that takes up a large chunk of the film, then it pretty much drags the movie down with it. Slightly below average film. I liked the film's tone, but its obvious flaws keep it from reaching a higher level of quality, so I can't exactly recommend it.
Jesse Ortega
Super Reviewer
Wedding Palace Quotes
There are no approved quotes yet for this movie.