The Wedding Singer
(1998)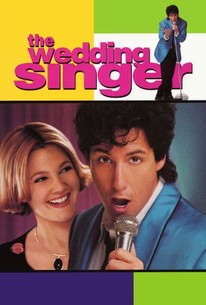 TOMATOMETER
AUDIENCE SCORE
Critic Consensus: It's decidedly uneven -- and surprisingly sappy for an early Adam Sandler comedy -- but The Wedding Singer is also sweet, funny, and beguiling.
The Wedding Singer Videos
The Wedding Singer Photos
Movie Info
Mousse up your hair and pull your Missing Persons records out of mothballs for this romantic comedy set in that era of questionable fashion decisions, the '80s. In 1985, Robbie Hart (Adam Sandler) is a vocalist whose rock band stubbornly refuses to get off the ground. In the meantime, he makes a living playing wedding receptions, where his easy charm and ability to schmooze brings him a steady income. Robbie meets Julia Sullivan (Drew Barrymore) when she's working as a waitress at one of his wedding gigs; he immediately takes a shine to her, but since he's engaged, he keeps his distance. Robbie learns that Julia is also engaged; unfortunately, her fiancà (C)e Glen Gulia (Matthew Glave) is an obnoxious, self-obsessed yuppie who is chronically unfaithful to her. When Robbie gets stood up at the altar by his fiancà (C)e, it's a crushing blow to his ego, and he moves from working weddings to bar mitzvahs to avoid the humiliating issue of matrimony, and he considers giving up on music altogether. In time, Robbie realizes that he needs to step in and stop Julia from marrying Glen before the woman he's come to love ruins her life. Adam Sandler's former Saturday Night Live co-stars Kevin Nealon and Jon Lovitz make cameo appearances, as do Steve Buscemi and Billy Idol -- as himself. ~ Mark Deming, Rovi
Critic Reviews for The Wedding Singer
Audience Reviews for The Wedding Singer
If you love 80s cheesy music, this is a must see. Julia and Robbie are engaged to wrong people. He is a wedding singer and she is a waitress. Drew and Adam make a great on-screen couple. Adam is a good singer. Cute rom com.
Candy Rose
Super Reviewer
Get some cheese balls, dunk it in cheese whizz, throw sharp cheddar cheese on top and you get "The Wedding Singer". Yup. So cheesy... everything within this movie is a recipe for disaster, yet the romance works -- what the hell? The comedy falls flat almost every single time and Drew Barrymore is one horrible actress, yet at the end of the day, you'll find "The Wedding Singer" somewhat pulling on your heartstrings.
Easily one of my all time favorite Adam Sandler movies. Love the 80's throwback, and all the little references, especially the music. Sandler is Robbie Hart, a wedding singer who gets left at the alter. Depressed, he then meets Julia Sullivan(Drew Barrymore) a waitress about to be married. He helps with her wedding planning, and they eventually fall for each other. typical romantic comedy, with Sandler's touch of frat boy humor that works perfect. Watching this on a Saturday morning for the first time in years, I found myself remembering every line, laughing at the same jokes, and singing the same songs. Watching this movie is like riding a bike, you just never forget.
Everett Johnson
Super Reviewer
The Wedding Singer Quotes
| | |
| --- | --- |
| Sammy: | I just want to someone to hold me and tell me everythings going to be allright. |
| Old Man in Bar: | (Hugging him) Everything is going to be allright. |
| Old Man in Bar: | Everything is going to be allright. |
| | |
| --- | --- |
| Rosie: | You'll know when you meet the right girl because it's not how you feel about her it's how she makes you feel about yourself |
| Rosie: | You'll know when you meet the right girl because it's not how you feel about her, it's how she makes you feel about yourself. |
| | |
| --- | --- |
| Robbie Hart: | But the worst thing is: that Me, Fatty, Sideburns Lady, and the mutants over at Table 9, will never ever find a way to better the situation, because apparently we have nothing to offer the opposite sex. |
| | |
| --- | --- |
| Robbie Hart: | Hey, psycho - we're not gonna discuss this, OK, it's over. Please get out of my Van Halen t-shirt before you jinx the band and they break up. |