Weekend at Bernie's
(1989)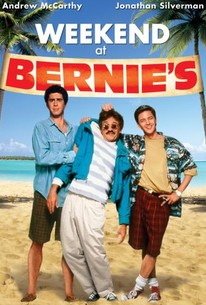 Weekend at Bernie's Photos
Movie Info
Two young businessmen are invited to their employer's beach home, only to find that he has been murdered. Thanks to a complicated series of events involving a corporate embezzlement scheme, the two are forced to convince the world their boss is still alive in this slapstick comedy.
News & Interviews for Weekend at Bernie's
Critic Reviews for Weekend at Bernie's
Audience Reviews for Weekend at Bernie's
Odious and completely unfunny, it really amazes me that this awful movie has become some sort of trashy cult along the years, and it is nearly unbearable to see a bunch of stupid characters incapable of noticing that a man is obviously dead.
Carlos Magalhães
Super Reviewer
½
"Weekend at Bernie's" is the type of film where you either buy the storyline and go along with it, or you will probably hate it. I always fall directly in the middle when I watch this film, because the comedy hits just as much as it misses. The idea of this film is risky to begin with, playing with death and such, but it works in the context of this movie and the characters involved in this crazy plot. Once invited to a house party at their Boss's party on an island, they arrive to find him dead in his home. Hiding the fact that he is dead, they parade around with the body the entire film, creating some very fun moments, but also some cynical ones as well. Overall, you may or may not enjoy this film, it is really a matter of opinion. "Weekend at Bernie's" works for what it is, but it is really the type of comedy you need to be in the mood for.
Mediocre comedy film, Weekend at Bernie's is one of those films that could have been much better than what it turned out to be. I really expect a fun, entertaining film; however this is a strained comedy with barely any effective comedic material. The cast do what they can to elevate the material, however, the result is not satisfying. Those expecting a good comedy will surely be disappointed and want more out of the film. The jokes here simply don't cut it, and fall flat most of the time. This film really could have been something special. But as it stands it's a lacking comedy that just doesn't have what it takes to be truly entertaining. I was disappointed by the film, and I thought it squandered its potential due to the fact the film's a script didn't seem fully fleshed out. Weekend at Bernie's is a comedy that leaves the viewer wanting more out of the film. The script is clearly underdeveloped, and the hints of good ideas are overshadowed by the incoherent narrative and lack of good comedy elements. The film disappoints and it just doesn't do anything to really grab the viewer's attention. I think this film could have been much better than what it turned out to be, and it's a shame they couldn't pull something truly amusing. In terms of a comedy, this one just doesn't deliver, and you won't expect to laugh. In fact, I didn't laugh once throughout the film, and I just felt myself wanting much more out of the film by the time the credits rolled. If there would have been a few rewrites to the script, with more thought put into the comedic elements, then this would have been a fun, entertaining and worthwhile comedy to really enjoy. Weekend at Bernie's has an interesting idea, but never delivers on its potential, which makes this a film not worth seeing if you enjoy truly fun comedies.
Weekend at Bernie's Quotes
| | |
| --- | --- |
| Larry Wilson: | He lost my sunglasses |
| Larry Wilson: | He lost my sunglasses. |
| | |
| --- | --- |
| Larry Wilson: | Look! He even has a pool at the beach. It's heated! |
| | |
| --- | --- |
| Larry Wilson: | These papers are going to the beach! |
| | |
| --- | --- |
| Larry Wilson: | woah! that was beautiful! replay! |
| Larry Wilson: | That was beautiful! Replay! |