Weekend at Bernie's II
(1993)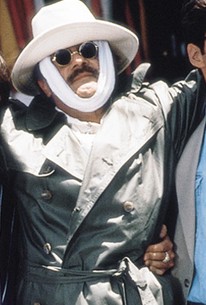 TOMATOMETER
AUDIENCE SCORE
Critic Consensus: It would appear to be all but impossible to make a worthwhile sequel to a comedy about a corpse's exploits -- odds Weekend at Bernie's II never comes close to beating.
Weekend at Bernie's II Photos
Movie Info
Bernie's employees, who found his murdered body when they arrived for a weekend party at the boss' house in the first film, are still running from the killers and are now trying to find the boss's stashed cash. They wind up in the Caribbean (and so does Bernie's body), along with the other employees looking for the cash. Bernie is stuffed into a suitcase, taken hang gliding, dances the tango, and even has women eyeing him.
News & Interviews for Weekend at Bernie's II
Critic Reviews for Weekend at Bernie's II
Audience Reviews for Weekend at Bernie's II
Unlike the film preceding it, "Weekend at Bernie's 2" takes everything that should have at least been a little bit fun and shits all over it. Having Bernie's body brought around by multiple people to create more slap-stick comedy that does not work, having his body dancing to music after being under a spell, and just stupid dialogue and banter between the two lead characters makes it feel so distant from the first film. Like many dumb comedies, they get lucky if they work once, but hardly ever twice, and to me, the first film barely worked on it's own, so this was entirely unnecessary. I only laughed once, the story is convoluted, the characters motivations are all jumbled, and I felt like I was watching a parody of the first rather than a sequel. In the end, nobody needs to watch this film. If you are curious about this story, stick with the first, because this will be 90-minutes you'll wish you had back.
½
Sequel to Weekend at Bernie's is an awful sequel to a mediocre sequel. I really don't know why they made a sequel because the original was pretty bland, and didn't have anything going for it in terms of comedy. This follow up, recycles ideas seen in the first film, but adds a new angle in order to hide the lack of originality with this film. This entry doesn't boast anything funny about it, and the attempt at comedy is poor. The result is a sequel that is a waste of time, and it also shows that you can't pull off a good sequel in the genre. It's only on the very rare occasion that comedy sequels work, and it's due to a strong script and effective comedic performances, which isn't present here. If you're looking for a fun sequel, you'll be disappointed, and will wonder why you even bothered with seeing it. Weekend at Bernie's was a severely flawed comedy that didn't deliver good laughs, and it was completely unnecessary because the first film didn't do anything special with its ideas. Overall, this sequel fails to grab your attention, and it's a straining affair, one that tries too hard with awful material. Don't expect to enjoy this film, as the film just ends up falling flat due to poor performances, nonexistent comedic bits and lazy direction. Weekend at Bernie's II is a poor sequel, one that definitely isn't worth seeing, and if you've seen the original, it should be enough because the filmmakers don't do anything new or original here and they reuse elements that we've seen before and add a few elements to try and make it work. Ultimately, this is a train wreck of a movie and you'd be better off watching something else instead.
½
So bad. Barely makes sense. And I really liked the original (sadly).
Nicki Marie
Super Reviewer
Weekend at Bernie's II Quotes
There are no approved quotes yet for this movie.