Weiner
(2016)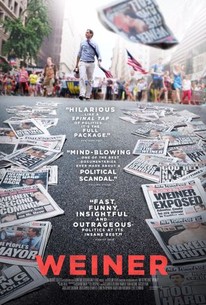 TOMATOMETER
AUDIENCE SCORE
Critic Consensus: Weiner uses sharp insight and untrammeled access to offer a portrait of a political and personal collapse that's as queasy as it is undeniably compelling.
Movie Info
Former U.S. Representative Anthony Weiner's catastrophic race for Mayor of New York City in 2013 is detailed in this behind-the-scenes documentary. Weiner became embroiled in his second widely publicized sexting scandal during the race, derailing his once-promising political career. Weiner is directed by Josh Kriegman and Elyse Steinberg and received its world premiere at the 2016 Sundance Film Festival.
Critic Reviews for Weiner
Audience Reviews for Weiner
½
Much is already known of Anthony Weiner's sexting scandals, so you might think (a) you already know this story, and (b) you've heard more than enough about this guy (and other recent political candidates' infidelities). To that I would say, you will be blown away by the level of access Weiner provided to filmmakers Josh Kriegman and Elyse Steinberg, and this is a very unique, frankly extraordinary documentary. You'll see Weiner trying to rebuild his career by running for mayor, what I have to believe was the original impetus for the film, with obviously the hope for a different outcome. You'll see him behind the scenes with aides and his wife, real-time, as subsequent revelations are made, and the ensuing incredibly difficult conversations. You'll see him fighting with the media and then reacting privately afterwards. You'll see him trying to figure out strategy and messaging in an unguarded way. You'll see him confront hecklers in New York, sometimes well, and sometimes not so well. You'll see the 22-year-old woman he had sexted (who he never met in person) come forward to stalk him on election night, chasing him on the way to make his concession speech, as his aides scurry him through a back route in a nearby McDonald's. It's all jaw-dropping. You do see the side of Weiner that got him elected 7 times to Congress - his fiery oration, his passion for the issues, his connection to the people in the streets of New York - things that actually made me think more highly of the man. You also see his incredibly poor judgment, his humiliation of his wife Huma Abedin, and his lack of real understanding of what he'd done to her - while he says publicly and privately he's sorry for what he put her through, he gets testy when she won't meet the press and "act like a normal candidate's wife", or participate in a commercial, snarkily commenting "leave ... after I do so people don't think we're married or anything", or words to that effect. Meanwhile, her facial reactions tell it all as the documentary progresses, and, ultimately, after the documentary ended, we know his behavior continued. As with all great documentaries, this one is honest, impartial, and well-edited to keep the story moving along. What sets it apart is the incredible inside look it gives into the crash and burn of a politician.
Antonius Block
Super Reviewer
A fascinating look at a man who chooses to defeat himself despite his talents. An amazing look at a self destructive personality.
John Ballantine
Super Reviewer
An utterly bizarre documentary . . . you get the sense that the filmmakers are just as surprised as everyone else when Weiner's campaign implodes on itself because it transforms their movie from a mundane political redemption story into an utterly engrossing dissection of a scandal.
Alec Barniskis
Super Reviewer
Weiner Quotes
There are no approved quotes yet for this movie.