Weirdsville
(2007)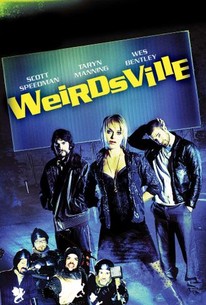 Movie Info
Two luckless stoners begin a truly awful evening when they discover they have a dead girlfriend on their hands in this black comedy from writer and director Allen Moyle. Dexter (Scott Speedman) and Royce (Wes Bentley) are a pair of half-bright slackers living in a nowhere town in Northern Ontario. Dexter and Royce's lack of ambition is compounded by the fact they're both heroin addicts, and they support their habits by dealing dope for Omar (Raoul Bhaneja), a ruthless dealer who's not to be trifled with. Matilda (Taryn Manning), Royce's girlfriend, makes the mistake of dipping into their product one night and suffers a serious O.D.; frightened, Royce and Dexter decide they have to get rid of the body, and Dexter suggests they bury her in the boiler room of a drive-in movie theater where he used to work. The guys take Matilda's body to the drive-in and are about to cover her up when they realize she isn't dead yet; however, their timing is flawed, as this discovery coincides with the arrival of a gaggle of would-be Satan Worshipers, who are looking for a likely candidate for their first human sacrifice. Weirdsville was chosen as the opening night presentation for the 2007 Slamdance Film Festival. ~ Mark Deming, Rovi
News & Interviews for Weirdsville
Critic Reviews for Weirdsville
Audience Reviews for Weirdsville
Two junkies, who are planning a safe heist to pay off the mobster they owe $8000, clash with Satanists when they interrupt a ritual while burying an overdosed friend. At times this stoned black comedy from the director of PUMP UP THE VOLUME flirts with BIG LEBOWSKI-esque greatness, but some questionable contrivances and forced quirkiness put it in the merely entertaining range.
½
As the title implies this film is kind of weird, in the same line of comedy as usual suspects. 2 potheads are in debt to a drug dealer, so we have a intertwining story with cults, midgets, and a teenage wanna be. Enjoyable and funny at times. A Canadian Comedy but no more the 3 1/2 stars.
Bruce Bruce
Super Reviewer
Scott Speedman, Wes Bentley, Taryn Manning, Greg Bryk, Randy Butcher, Matt Frewer DIRECTED BY: Allan Moyle When stoners Dexter and Royce mistakenly assume their friend Matilda has overdosed, they can't call the cops because she's OD'd on stolen drugs. So, they decide to bury her body themselves. Good news is she's not dead. Bad news is she wakes up just in time to interrupt a Satanic cult performing a ritual sacrifice in the same place the guys were going to bury her. Our heroes end up on the run from the Satanists, the drug dealer they stole the stash from, and a gang of angry little people all while trying to pull off a heist of their own. It's one crazy night in one crazy town! The title of this movie totally fits it. It is my kind of movie. I love these off beat movies and all there weird quirks. Loved Wes Bentley in this movie. He was very different from other roles I have seen him in and very funny. The heist to me is the funniest part in the film. I also loved Scott Speedman. Great seeing him do different roles. Just a fun movie with some laughs and some weird situations.
♥˩ƳИИ ƜѲѲƉƧ♥
Super Reviewer
Weirdsville Quotes
There are no approved quotes yet for this movie.