Welcome Home Roscoe Jenkins
(2008)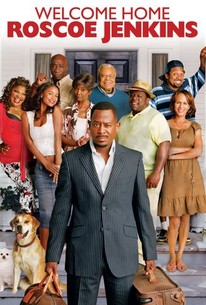 Welcome Home Roscoe Jenkins Photos
Movie Info
RJ Stevens left behind his modest Southern upbringing and family name to transform into a self-help guru dispensing his "Team of Me" philosophy to millions of adoring fans. With a reality-TV-star fiancée and money to burn, there's no piece of the Hollywood dream RJ hasn't achieved. After his parents request that he come home for their 50th wedding anniversary, the TV host packs up his 10-year-old son and diva bride-to-be and heads back to Georgia. It's a chance to prove to his family that he's no longer the awkward kid they relentlessly picked on. At least, that's the plan. But, when his crazy, lovable family calls him on his big-city attitude and challenges him at every turn, RJ is forced to take a hard look at the man he's become. He may be a superstar in L.A., but he's just one of the guys in Dry Springs.
News & Interviews for Welcome Home Roscoe Jenkins
Critic Reviews for Welcome Home Roscoe Jenkins
Audience Reviews for Welcome Home Roscoe Jenkins
Going home is no vacation. The movie is funny and it's a nice family film. The story was nice and simple. Nice cast of actors and all were in sync which was a plus. Good movie to watch on TV or Rent. A single father who has just found success as the host of an outrageous television talk show begins to question his path in life when he returns home to attend his parents' 50th wedding anniversary party in the company of his famous fiancée -- a reality television star -- in this crisis-of-conscience comedy starring Martin Lawrence. RJ Stevens (Lawrence) is a television talk-show sensation who has transcended his modest Southern beginnings to become the most popular self-help guru ever to grace the small screen. His show, "Team of Me," is a ratings juggernaut, his fiancée is a beautiful reality television star, and his pockets are always lined with large bills. There are few Tinseltown dreams that RJ hasn't already achieved, so when his parents announce their 50th wedding anniversary, the family-oriented television star immediately drops everything and sets his sights on Georgia. As a boy, RJ was always the target of ridicule within his family, but these days things are different; not only does RJ have a ten-year-old son, but his bride-to-be is admired by countless viewers all across the globe on a weekly basis. But RJ's egotistical West Coast attitude simply doesn't fly in the South, and when his lovable but relentless family refuses to cut him any slack due to his current superstar status, he must finally pause and take stock of the man he has become. Louis C.K., Cedric the Entertainer, Michael Clarke Duncan, and James Earl Jones co-star in a Southern-flavored family comedy written and directed by Malcolm D. Lee.
½
Predictable. Guy wearing white suit drinking beetroot juice. Hmmm..wonder what might happen. Don't even start me on the "evil" girlfriemd. (We know she's evil because she doesn't want to "ruin" her figure having kids, and doesn't enjoy being around her partners quite uncouth family and - shock ,horror - wants nice things in life). This is just the same old family values trash that's been done to death - contrived and unconvincing
Nicki Marie
Super Reviewer
Welcome Home Roscoe Jenkins Quotes
There are no approved quotes yet for this movie.