Welcome Home Roxy Carmichael
(1990)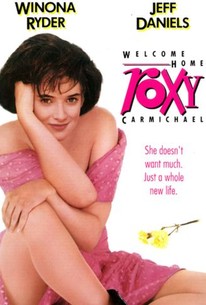 Welcome Home Roxy Carmichael Photos
Movie Info
A small Ohio town is turned upside down by the anticipated return of Roxy Carmichael, a hometown girl turned famous Hollywood actress. This comedy-drama focuses on the effect of this visit on angst-ridden teen Dinky Bossetti, who has become convinced that Roxy is her real mother.
Critic Reviews for Welcome Home Roxy Carmichael
Audience Reviews for Welcome Home Roxy Carmichael
Welcome Home Roxy Carmichael is a fun and charming '90s comedy. The small town of Clyde, Ohio is all abuzz about the return of Roxy Carmichael, a local girl who became rich and famous after leaving for Hollywood; meanwhile a socially outcast teenager named Dinky Bossetti comes to believe that she's Roxy's long lost daughter. Winona Ryder leads the cast and brings a lot of charm and charisma to the film. And the comedy works pretty well, delivering some good laughs. However, the film is poorly written and is full of unnecessary subplots that don't go anywhere. The directing is also weak, and has trouble keeping a consistent tone, yet Melissa Etheridge provides a strong theme song ("In Roxy's Eyes") that captures the spirit of film. It's flawed, but Welcome Home Roxy Carmichael is an entertaining comedy with a sincere message.
Dann Michalski
Super Reviewer
½
My original rating on this was 2 1/2 stars. I watched it years ago when it first came out, and can remember thinking it was a dumb movie with a stupid storyline. I was recently leant a copy of this (much to my "delight"), thought I had better at least attempt to watch it again before throwing it back like a hot potato! Surprisingly, I actually enjoyed this. I can still see where my original gripes were - Winona, as Dinky, is really uglied up here, and there's some really dumb bits and things that don't make sense - but it is actually quite a sweet little story and years on I had quite a laugh at all the mullets and floral dresses on display. This movie was released in 1990, but it screams 80's and most of the outfits are in such bad taste it made my jaw drop. I don't remember thinking anything of it back when I first watched it, so I would say this really hasn't aged well from that side. The guy, Gerald, who has a crush on Dinky (what a name! I hope it is a nickname and not her birth name. This is never clarified in the film), is the biggest dork ever seen, though you get the impression he is meant to be a hot guy. (until the ending). The story of an outsider who has pinned her hopes on meeting her real mother, and how this mysterious woman (Roxy) has shaped the lives of many of the characters here. Not a perfect movie by any means, but has a nice message under it all and definitely worth a revisit for 80's fans.
Nicki Marie
Super Reviewer
½
Winona Ryder has a big collection of forgotten but first-rate movies, and this is no exception. The acting was really good, and the music on the soundtrack made it memorable. Well worth a look, and a second, and a third...
Cassandra Maples
Super Reviewer
Welcome Home Roxy Carmichael Quotes
There are no approved quotes yet for this movie.