Welcome to Marwen
(2018)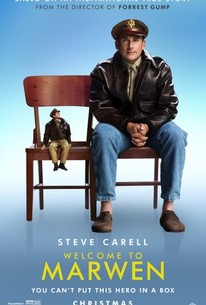 TOMATOMETER
AUDIENCE SCORE
Critic Consensus: Welcome to Marwen has dazzling effects and a sadly compelling story, but the movie's disjointed feel and clumsy screenplay make this invitation easy to decline.
Movie Info
When a devastating attack shatters Mark Hogancamp (Carell) and wipes away all memories, no one expected recovery. Putting together pieces from his old and new life, Mark meticulously creates a wondrous town where he can heal and be heroic. As he builds an astonishing art installation--a testament to the most powerful women he knows--through his fantasy world, he draws strength to triumph in the real one.
News & Interviews for Welcome to Marwen
Critic Reviews for Welcome to Marwen
Audience Reviews for Welcome to Marwen
Robert Zemeckis' latest focuses on the redemptive power of fantasy role play to heal damaged psyches (aided by positive real-world reinforcements). Special effects are extraordinary here that delve into the fantasy portions, but the writing feels dumbed down for broader audience acceptance, a mistake. Still an engaging look at the fragility of we who are human sensitively told.
Kevin M. Williams
Super Reviewer
When I saw the trailer for Welcome to Marwen my first response was pained wincing. Robert Zemeckis is one of the most daring, inventive, and imaginative filmmakers working today, but this movie just looked misguided with its approach. Welcome to Marwen is so fascinating, so tonally off, that I might almost recommend people watch it. Mark Hogancamp (Steve Carell) was a war illustrator until the day he was attacked by a gang of neo Nazis. In the ensuring months, Mark has lost portions of his memory, is unable to use his hands to illustrate any longer, and has become something of a shut-in. He has gained notoriety through his new artistic outlet. Mark has created a WWII era Belgian town called Marwen with a group of dolls fighting evil Nazis. We escape into fantasy sequences where Mark imagines himself as Cap'N Hogie and his gang of supportive ladies. Nicol (Leslie Mann) moves in next door to Mark and he takes an immediate interest in her (she even appears in Marwen in doll form). Mark must grapple with his feelings and work up the courage to attend the court hearing to make sure the men who hurt him stay in prison. I was amazed at how miscalculated Welcome to Marwen plays out. It feels like Steve Carell's Patch Adams, a sentimental movie where every step seems strange, mistaken, maudlin, and false. Firstly, this is the second documentary that Zemeckis has taken and adapted into a live-action film, as if the man is spending the wee hours of his nights pouring over award-winning documentaries of the past and determining which he can add a little razzle dazzle to with visual whimsy. Look out The Cove because maybe an undersea realm of talking dolphins will open up that horrifying Oscar-winner to a whole new mainstream audience. I'd have less of an issue with Zemeckis remaking the documentary if it didn't seem like his entire rationale was the fantasy interludes. The original documentary is about one man and his unique brand of healing through art. He is becoming further whole by building an intricate world through his imagination. By visualizing the fantasy worlds, Zemeckis is turning the doll segments into literal escapism that becomes tedious, obvious, and often redundant. The doll segments are about his gang of girls supporting him, expressing his interest in his kind new neighbor, and tackling the Nazis in a safe space where he can win. Every time we cut to the doll sequences it feels like the movie is spinning its wheels with these ill advised fantasy cut scenes. It gets boring watching the doll segments without any sense of stakes. The special effects are creepy and there are aspects that amplify this, like one doll's penchant for having her top ripped off in combat, revealing her stout, rounded chest. Keep in mind that the female dolls, with the exception of one, are all analogues for people in his life, so then Mark is consistently indulging in stripping one woman of her clothes. Even though the movie sets this character up to be a potential love interest, it's still not a good choice. Zemeckis intends to literalize Mark's struggles and fears so that he can triumph over them, but it feels like it's minimizing the complexity of trauma into digestible whimsy. With every trip to Marwen, I was eager to return back to the land of human beings where they might still be over-the-top but at least I wouldn't have to watch creepy doll CGI. The most significant doll is the blue-haired Deja Thoris (Diane Kruger) who is meant to represent Mark's suicidal impulses. He keeps her atop his wall so that she can watch over him, and in his sleep he dreams about her whispering in his ear, "Nobody will ever love you like I do. You should just end it now." Oh man, that's heavy, but when applied through the prism of a talking Barbie doll it loses its sense of seriousness. If you don't lose yourself in the central conceit and take the dolls seriously, the movie will fall flat. Take for instance the cross-dressing aspect of Mark, which is what lead to his brutal beating. It's a delicate subject and something easy to get muddled, and that's exactly what happens in the presentation of this movie. The shoe fetish is initially portrayed as wacky and then becomes serious and then becomes like an artifact of horror. It's another sign that the tone for this movie is mismatched. These things require a delicate touch with some ambiguity and sensitivity. Welcome to Marwen turns these into a loud, noisy cartoon that bumbles into its messages. Things that are meant to be charming or endearing or emotional can come across as goofy or campy or even uncomfortable. I felt bad for so many of the actors. Carell (Vice) is trying to maintain his character's sense of dignity throughout, but the story often goes into contrived contortions to force him into dramatic confrontations. It turns out the court appearance is rescheduled to be the same day of Mark's photographic exhibit. Will he be able to triumph over these forces to stand up for himself? Carell is a capable dramatic actor but he's struggling here to find stable footing because of the mish mashing tones. The development of Mark makes him come across as a creep in some moments, like his one-sided advances for Nicol, and a simpleton at other moments, where he might have sustained brain damage. Mann (Blockers) is sweet and gentle but strangely the movie hides her most interesting character aspects, like the prospect of a deceased child. You would think overcoming tragedy would be a tool for Nicol and Mark to bond. Merritt Wever (Godless) is another sweet and gentle woman in a world that seems overstocked with them. It feels like everyone in this small town exists just to be nice to Mark. She's clearly romantically interested in Mark but he doesn't care until the very end. She deserves better than being someone's runner-up choice, especially only after he was turned down. A movie that deals with delicate issues through fantasy escapism can work, but it requires a precise hand with tone and with its storytelling detours. Guillermo del Toro has been able to prove he can tell rich, adult stories with the assistance of whimsical, weird fantasy elements. Charlie Kaufman has been able to weird the mundane and the fantastic. It can be done and Zemeckis has done it himself before, best evidenced by the masterpiece, Who Framed Roger Rabbit?. However, Welcome to Marwen is a sizeable tonal misfire. The serious elements don't blend well with the fantasy elements, and even worse, they are made less serious and approach the realm of camp. The fun, fantasy elements are given bizarre and unsettling contexts that make them creepy and inappropriate. Escaping into Mark's imagination winds up stripping him of much of his agency, and literalizing his psychological push-and-pull feels like a misguided examination on depression. I left my theater in a daze, trying to make sense of what I had just witnessed. The filmmakers and cast certainly mean well and want the film to be a triumph of the human spirit. I found it to be two meandering hours of watching somebody play with their disused toys. Nate's Grade: C-
Nate Zoebl
Super Reviewer
½
The outrage this movie is getting is just downright bizarre to me. The movie has it's flaws, yes, it's a very mixed bag, but the vitriol it's getting is entirely undeserved. My biggest issue with it is, I really would have liked to see more of Mark's story outside of Marwen, the story of the attack and his recovery. A lot of the story though takes place inside the fictional town of Marwen that Mark has created as a coping mechanism. Sometimes, this works great. There's an amazing scene showing him becoming overwhelmed, and then becoming entrapped in the town in Nazi gunfire. This sort of parallel works. Other times, we spend too much time in that world, and we lose the parallels and then lose the tension. The stories of Marwen only matter as they relate to Mark, and sometimes the movie gets too wrapped up in it's Nazi fighting dolls. That's a problem, especially at the end with a reveal involving the "witch" of Marwen. I got what they were going for, and maybe given some care could have been powerful, but it's too quick and too weird. But does this kill the movie? Well, apparently for a lot of people, yes. For me, the stuff that was good was good enough to keep the movie afloat. Yes they do go overboard with the Marwen action sequences, and overindulgence in action effects has been a problem for Zemeckis for a while now, but the idea of showing Mark's mental state through the world of Marwen was an intriguing one and once I got over the shock of them telling the story this way I was actually intrigued by the approach. And the human elements are all still extremely good. There's something of a romance that at first I didn't like, but it doesn't go quite the way you'd expect in a very real way. I liked the small little town Mark lives in and getting to know all the people in it, and everyone in this town is charming. Most of all, Steve Carrell absolutely kills it. It's one of Carrell's best performances, and he deserves all the praise in the world for it. If this movie didn't work for you, I get it. But the personal vendetta people have for this movie I will never get. I say see it yourself with an open mind and judge for yourself.
Michael Malan
Super Reviewer
Welcome to Marwen Quotes
There are no approved quotes yet for this movie.