Welcome to Mooseport
(2004)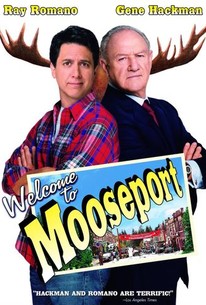 Welcome to Mooseport Photos
Movie Info
Welcome to Mooseport. The sleepy Maine community has all the accoutrements of idyllic small town life: a little park and gazebo, quaint architecture, a moose that wanders through the streets, and lots of friendly townsfolk, including the proprietor of the local hardware store, Handy Harrison and his veterinarian girlfriend Sally. Mooseport also just happens to be the vacation home for the leader of the free world: Monroe "Eagle" Cole, the President of the United States. Following two successful terms, the wildly popular President is ready to retire to his "Mooseport White House," publish his memoirs and embark on a series of lucrative speaking engagements. But Eagle's retirement is delayed when the folks of Mooseport convince the former President to run for Mayor. At the same time, he sparks to Sally--unaware that she is Handy's girlfriend. So, when a jealous Handy announces HIS candidacy for mayor, Eagle is dumbfounded. Handy, in turn, sees himself in a race for Mayor and boyfriend. As the campaign kicks into high gear, things get even wilder in this once quiet town.
Critic Reviews for Welcome to Mooseport
Audience Reviews for Welcome to Mooseport
½
No work of art but a pleasant silly comedy which is unfortunately damaged by a very dull Ray Romano in one of the leads. Sadly this seems to be the film Hackman chose to close out his career.
This movie has a great and seemingly original premise, but I think that was all Gene Hackman found out about it before signing on... Ray Romano is his usual boring self, but Hackman is complemented by unsung TV vets Maura Tierney and a surprisingly good Fred Savage, as well as the usual Marcia Gay Harden. The script was okay, the plot was fine, but the filming was so formulaic that this one is really a chore to sit all the way through.
Daniel Perry
Super Reviewer
It is a pretty good movie. Ray Romano is great, as usual. The concept was neat. A good comedy.
Andrew Fillmore
Super Reviewer
Welcome to Mooseport Quotes
There are no approved quotes yet for this movie.