Welcome to Sarajevo
(1997)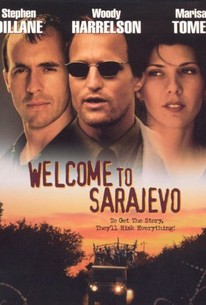 Welcome to Sarajevo Photos
Movie Info
Michael WinterbottomÕs emotionally powerful docudrama about a British TV reporter and his attempts to smuggle a young Muslim girl out of the Bosnian war zone.
News & Interviews for Welcome to Sarajevo
Critic Reviews for Welcome to Sarajevo
Audience Reviews for Welcome to Sarajevo
To get the story, they'll risk everything. Good Film! What "Welcome To Sarajevo" did was open my eyes and help me realize how fortunate I am. Sarajevo was a peaceful, metropolitan city not unlike many cities in North America. But it is no longer. It's almost too easy to clear your mind of the strife going on in other parts of the world. Sometimes we feel guilty for being so fortunate. Sometimes we feel horror at the news reports of inhuman atrocities. And most times we shut out the reality of it as it is rarely affecting us in a personal way. This gripping tale of war-torn Sarajevo is told through the eyes of British reporters. It will probably shock, jar and depress you, but it will most certainly increase your sense of global awareness, and instill a better appreciation of the liberties that most of us have taken for granted. Images from concentration camps hauntingly mimic those from fifty years ago. This film is based on an amazing true story of one man's personal involvement and promise to rescue one refugee child and the great lengths to which he must go to deliver her from a war zone. I caught this film in its limited theatrical run following its inclusion in the 1997 Toronto Film Festival. I exited the theater with my wife in a staggering awe-struck state. No one could fully communicate what it would be like to live in a war zone, but this film gives you a potent taste without pulling any punches. What this means is that most people will likely find it difficult to recommend this film to friends. It's not an uplifting tale, but it is an extremely important one, and I feel privileged and fortunate for having seen it. Journalist Floyd from US, Michael Henderson from UK and their teams meet the beginning of Bosnian war in Sarajevo. During their reports they find an orphanage run by devoted Mrs. Savic near the front line. Henderson gets so involved in kids' problems that he decides to take on the children, Emira, illegally back to England. He is assisted by American aid worker Nina.
Disturbing film documenting the death and destruction of a nation torn apart by religious differences. Some very disturbing scenes of babies and children caught in the midst of the killing, and insanity. The actual footage used in this movie is really difficult to view, but needed to be shown. The newspeople covering the stories in these war torn countries are very brave (or crazy?) people. Kudos to them.....
Cynthia S.
Super Reviewer
Journalists cover the war in Sarajevo. Michael Winterbottom's film has its heart in the right place. Attempting to expose the violence and atrocities of war and their effects on children is admirable, but what's missing is a clear, central story arc; the film finds it about forty-five minutes into the film, but it's too late. What is more, the film is a combination of news footage and live action shots; this works, but Winterbottom over-uses the trick. Overall, I found it hard to dislike Welcome to Sarajevo, but I must admit that the story flounders.
Jim Hunter
Super Reviewer
Welcome to Sarajevo Quotes
| | |
| --- | --- |
| Flynn: | This place feels like a virus you can't get rid of. Sometimes i feel like I'll never make it home. |
| Flynn: | This place feels like a virus you can't get rid of. Sometimes I feel like I'll never make it home. |
| | |
| --- | --- |
| Dragon: | Everything in Sarajevo is for sale. |
| | |
| --- | --- |
| Risto: | Promise me. Don't bring her back here. |
| | |
| --- | --- |
| Henderson: | Us...we're like vultures. |
| Henderson: | Us... we're like vultures. |