Welcome to the Jungle
(2007)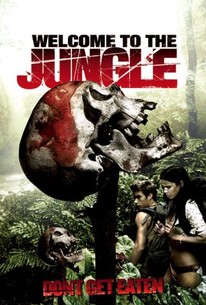 AUDIENCE SCORE
Critic Consensus: No consensus yet.
Movie Info
Screenwriter turned filmmaker Jonathan Hensleigh (The Punisher) delivers a tale inspired by true events that follows two couple's trek through the cannibal-infested jungles of New Guinea in search for Michael Rockefeller, the lost beneficiary of the Rockefeller estate whose fabled to still be living in the wild after his disappearance during a 1961 expedition. Reportedly holding more than a few ties to Ruggero Deodato's cult jungle gross-out Cannibal Holocaust, Hensleigh's film stalled in distribution limbo after making its rounds on the festival circuit.
Critic Reviews for Welcome to the Jungle
All Critics (2) | Fresh (2) | Rotten (0)
As a gritty throwback to a sub-genre that doesn't get much airtime these days, I'd call Welcome to the Jungle a surprisingly effective little experiment.
Audience Reviews for Welcome to the Jungle
What?s going on, why have I run into a run of loser films, that?s exactly what this is a loser film, 4 students are running around the jungles of PaPa New Guinea looking for David Rockefeller, and its one of those someone is carrying the camera films, I wanted to turn it off so many times, only flixster kept me going 1/2 a star. Can You Say LOSER
Bruce Bruce
Super Reviewer
One for the trailer made it look much better category. It's a mix of Blair witch project and Turistas (Paradise lost). Told in hand held cam format as two couples head into the jungle looking for a long lost heir to the Rockefeller fortune. Very slow to start and quite bleak, by the end you don't care what happens to them. Only gets gory for the last 15 mins or more. One for camcorder horror fans only really.
Directed by: Jonathan Hensleigh. Starring: Sandy Gardiner, Callard Harris, Nick Richey, Veronica Sywak. <<"People go missing every day...but not the son of the Vice President of the United States...and not in Cannibal territory. In 1961, the disappearance of Michael Rockefeller led to the largest manhunt in U.S history.">> The story follows two young couples who head into the New Guinea wilderness in an effort to find Michael Rockefeller, the heir to the Rockefeller fortune who disappeared in 1961. I had set my expectations pretty low...but man did I not expect it to be this bad. The DVD cover was beaming with reviews, stating it was 'Quite possibly the most terrifying film of the last decade'...this film is anything but. It all starts at the first frame. Not only throughout the film is it technically flawed (we are meant to get the effect of hand held style on a handicam, yet each person has professional steadicam experience and the cameras quality is top notch...and how many times was there a 5th person holding the camera when there was meant to be 4?), we are introduced to 4 of the most immature, inhuman characters you will ever see grace the screen for many years to come. Alongside some atrocious and unrealistic dialogue, the actors deliver so horribly that I could never even believe that they were trying to act normal. From there the film runs at a mere 80 minutes, yet for 60 of them, we are slowly dragged through there journey towards there destination and we encounter more of there dull personalities and even some unbelievable over the top moments when the characters fight...and what was up with the missionaries and the characters horrible attitude towards them? By the time we have endured that hour, we couldn't care less about anything that is going on and even when you get a damn decent shot or two of the gore, I never felt my excitement rise above nothing. Another horrible film to hold great reviews all over its cover, Welcome To The Jungle is unbelievably bare and dull on every single level
Craig Sutcliffe
Super Reviewer
Welcome to the Jungle Quotes
There are no approved quotes yet for this movie.