Welcome to the Rileys
(2010)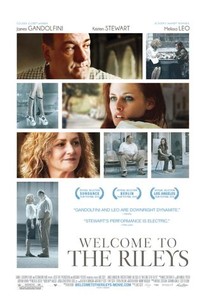 TOMATOMETER
AUDIENCE SCORE
Critic Consensus: Despite earnest performances, Welcome to the Rileys cannot escape its belabored over-sentimentality and sluggish delivery.
Welcome to the Rileys Photos
Movie Info
WELCOME TO THE RILEYS is a powerful drama about finding hope in the most unusual of places. Once a happily married and loving couple, Doug and Lois Riley (James Gandolfini and Melissa Leo) have grown apart since losing their teenage daughter eight years prior. Leaving his agoraphobic wife behind to go on a business trip to New Orleans, Doug meets a 17-year-old runaway (Kristen Stewart) and the two form a platonic bond. For Lois and Doug, what initially appears to be the final straw that will derail their relationship, turns out to be the inspiration they need to renew their marriage. -- (C) Samuel Goldwyn
News & Interviews for Welcome to the Rileys
Critic Reviews for Welcome to the Rileys
Audience Reviews for Welcome to the Rileys
Kristen Stewart puts in a fine performance and is backed by two great performances by James Gandolfini and Melissa Leo, in a drama that begins very well but soon starts to lose momentum as it gradually advances towards an optimistic resolution - although I do like the ending.
Carlos Magalhães
Super Reviewer
½
There's a lot of drams that are made to be "award bait". Which means, it will get a lot of nominations, which will increase it's visibility and make money. But, there are a lot of movies made for that reason, that don't come out right and end up getting no awards and making no money. "Welcome to the Rileys" is one of those flicks. It stars James Gandolfini and Melissa Leo as a middle aged married couple who have grown apart. Doug(Gandolfini) has a business trip to New Orleans, and while there he meets a 17 year old stripper(Kristen Stewart). He doesn't want a relationship with her or sex, he just wants to help her the way a father would help a daughter. Lois(Leo) is agoraphobic but finds the will to come to New Orleans to be with Doug. From there conflicts with Stewart and some secrets come out. The performances are all just ok. Gandolfini is the best, but he just seems to be going through the motions. Stewart does the exact same thing here as all her movies. Lip biting, playing with her hair, and pouting. She has that all down pat. The movie drags and doesn't really give much of a conclusion. Worth a watch? I a copy for free, and I'd say that would be the only reason to watch it. I'm sure there are some people who like this, but it didn't work for me at all really.
Everett Johnson
Super Reviewer
Welcome to the Rileys. Good movie! Welcome to the Riley's was a very interesting little American indie film. The movie is a little clichéd and sugarcoated but there's also a lot of dark and ugly notes in the film as well and it manages to strike an even balance. The acting and directing is decent enough that the setup seems believable and you really learn to care for the characters. Gandolfini is good and lovable like always and Leo turns in another impressive performance and continues to show her range. It's Stewart that really shines in the film though and silences her critics by continuing to broaden her range as well. The film is emotional and rewarding to a certain extent. Nothing too powerful or memorable but a nice little indie drama that gives some good actors some nice material to play around with. Worth seeing if you're into that sort of thing. Something's wrong at the Rileys. Married nearly 30 years, Doug and Lois rarely talk. She doesn't leave their Indianapolis home, and she's ordered a gravestone with their names and birth years on it. He has a long-time Thursday night mistress whom he invites to go with him to a plumbing supply conference in New Orleans. Once there, Doug calls Lois to say he's staying for a while. What's he leaving behind and what's he looking for in New Orleans? And Lois, can she break out?
Welcome to the Rileys Quotes
| | |
| --- | --- |
| Doug Riley: | Are you alright? |
| Mallory: | Mmm. Yeah. I just can't stand on the street without the cops comin' by me like I'm a fuckin' crackwhore. |
| Doug Riley: | What happened? |
| Mallory: | I came here with this guy and, uh, he kept tryin' to stick it up my fuckin' ass. And I was like 'You pencil dick, back the fuck up', and he wouldn't. I went to piss and I came back out, my wallet is sittin' on the bed, and all my shit is everywhere, and his car is gone, and all I got his fuckin' shoes. And like... I'm out nine hundred bucks. |
| | |
| --- | --- |
| Mallory: | What's your problem? |
| Doug Riley: | I guess I'm just not used to bein' around young women who talk about their private parts. |
| Mallory: | (laughs) Like hello! Like I have private parts! |
| Mallory: | Like hello! Like I have private parts! |