Welcome to the Sticks
(2008)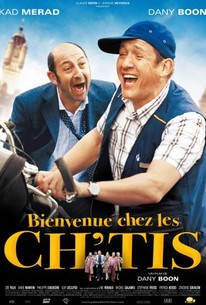 Welcome to the Sticks Photos
Movie Info
Dany Boon wrote, directed and costars in this rousing rural comedy about a man born and raised on France's Southern coast who is exiled to the Northern territories. Philippe (Kad Merad) helps run a small-town post office in France. His wife Julie has been down in the dumps, so he hatches a plan to move to the Cote d'Azur. But Philippe fails to secure a transfer and is relocated to Bergues, a village in Northern France where the language is unfamiliar and the culture is strangely foreign.
Critic Reviews for Welcome to the Sticks
Audience Reviews for Welcome to the Sticks
½
Bienvenue Chez Les Ch'tis. Simply formulaic, but charmingly funny. I'll start out by saying that I've lived in Belgium my whole life, and I speak French. Coming from that point of view, this film was hilarious. I loved that it begins pouring rain the second he enters into the territory of "Le Nord" (been there), and the constant use of the term "Biloute" (done that). The performances are nice, especially Dany Boon, who did a great job of directing and writing as well. The story was nothing amazing, but because of the charming characters and my own love for anti-Northern France jokes, it succeeds greatly. Why 70%? Because you get plenty of clever laughs along with a likable, the situations are fun and its tight pace keeps things moving nicely. Extra: The English subtitles don't do the Ch'tis accents justice, they're hilarious. A lot of French humor revolves around wordplay and double-meanings, and this movie has plenty of those. Have you seen this dubbed? Is it any good? Well anyways, several very French/Belgian moments.
Luke Turley
Super Reviewer
½
Charming, at times downright hilarious comedy. Unfortunately I don't speak a word of French and have no deeper knowledge of the culture clash between North and South - the film is probably truly funny to French audiences, as the success in France also demonstrates.
Slight, but amusing film. The parts where the wife goes to visit are hilarious, and I give full marks to whoever did the translating for the subtitltes!
Nicki Marie
Super Reviewer
Welcome to the Sticks Quotes
There are no approved quotes yet for this movie.