Welcome to Woop Woop
(1998)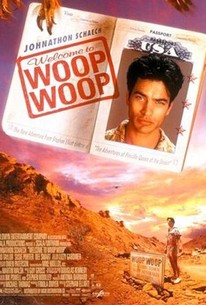 Welcome to Woop Woop Photos
Movie Info
In part, filmmaker Stephan Elliott (best known for The Adventures of Priscilla Queen of the Desert) made this black, surrealistic and subversive comedy to bid farewell to Australian cultural traditions (i.e. excessive beer drinking, racism and sexism) that are rapidly disappearing due to the increasing infiltration of urban sophistication and political correctness into even the county's most remote regions. Unfortunately, Elliot's outrageous tribute to past 'traditions' is presented with such vulgar abandon that many Australians are sure to be offended, not tickled, even though Elliot did try to tone down the mean spirit of the original script which was first titled 'Big Red.' The story centers on Teddy, a fugitive con-artist who has fled New York and gone into the Australian outback. His troubles begin when he is picked up at a lonely gas station by the blonde and brassy Angie who quickly seduces him and then knocks him out cold. Teddy awakens to find himself in the dusty town of Woop Woop. Surrounded by steep cliffs, the town, which was built near a now-defunct asbestos mine, is ruled by Angie's father Daddy-O, who is as much a warden as he is a local leader, deciding when and who will enter and leave Woop Woop. A weird place that is supported by a kangaroo-meat dog-food factory, it is populated by beer-swilling rednecks, crude eccentrics (and a giant kangaroo named Big Red) who find endless entertainment listening to Oscar & Hammerstein musicals (the town's ramshackle drive-in runs The Sound of Music and South Pacific continuously). Teddy quickly discovers that he is in effect the burg's newest prisoner and is expected to constantly service the sexually insatiable Angie. Not willing to remain a captive, Teddy begins planning his escape. The story's surrealism comes from Elliot's deliberately inappropriate use of musical numbers to punctuate events.
Critic Reviews for Welcome to Woop Woop
Audience Reviews for Welcome to Woop Woop
I love crazy Australian movies. And this one is definately CRAZY!
FanGirl Browncoat
Super Reviewer
½
Great Aussie outback comedy movie and Susie Porter is bloody hot as hell in sex scenes.
Dean McKenna
Super Reviewer
Welcome to Woop Woop Quotes
There are no approved quotes yet for this movie.