Wendigo
(2002)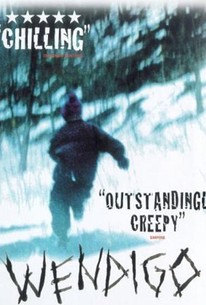 Movie Info
On a snow-covered road in the woods of upstate New York, Manhattanites George and Kim, and their eight-year-old son Miles, drive to the country house where they'll spend a much-needed weekend vacation. Suddenly, their car hits a deer, leading the shaken family to a terrifying encounter with the leader of a posse of local hunters that had been pursuing the animal. Miles witnesses the angry hunter's "mercy killing" of the wounded stag though his parents do their best to protect him. As they settle into the farmhouse, the quiet and isolation begin to erode their sense of well-being, with the psychotic hunter seemingly at the root of it all. His menacing presence starts to consume the family. The adults cling tentatively to rationality for the sake of their child while Miles invokes the ferocious spirit of the Wendigo, a Native American myth made manifest in the young boy's imagination.
Critic Reviews for Wendigo
Audience Reviews for Wendigo
Interesting story about a family thats spending a few days in a cabin but realise some blokes family lived there and he's being a bit of a dick about it. When the familys young son gets given this little wooden doll thing called a Wendigo by a mysrterious man weird shit starts to go down. Accept it doesn't! Not for ages anyway. This takes far to long to get going, only becoming interesting in the last 15 mins so just as your getting into it, it ends. Thers a couple of good bits, like when you see the Wendigo creature but overall, this is just boring and could have been so much better.
½
Okay, let's say you're a deeply pretentious filmmaker with a shoestring budget and you want to do a movie about a family and a deer monster. You still following me? Good. Now, what's the best way to produce your "German expressionist horror film" while aptly disguising your lack of funding and lack of talent at the same time? a) Learn more about human interaction and how to write natural-sounding dialogue and characters b) Learn more about the process of capturing an aesthetically appealing image on camera c) use freak-ass editing and shitty looking jump shots and reiterate over and over through repetitive scenes that THIS FAMILY HAS PROBLEMS BUT IT'S OKAY THEY LOVE EACH OTHER. Three guesses as to which option Larry Fessenden picked. By the way, Fessenden is clearly the biggest tool ever. If this movie's chronic head-up-its-ass syndrome wasn't a definite indicator, look at his picture on IMDB. It sends douche chills running up my spine. I guess it's not fair to totally lambast this movie, because there were one and a half things I liked about it. The first is Patricia Clarkson, who I'll watch in basically anything; why she is pissing her career away in movies like this and The Woods totally eludes me. I'm really glad she's in Shutter Island, the new Scorsese film which I'm fucking excited for. GO PATTY GO The other half thing that I kind of liked was that Wendigo does try to explore some interesting themes before it falls in love with its own idiotic mythos. Ideas like moral objectivity and sentience are touched upon ever so slightly; sadly, Fessendouche refuses to expound on them, instead opting to show us jittery stop-motion shots of some cunt in a deer suit running around in the woods. But what's wrong with Wendigo? Besides what I've already mentioned - Jake Weber is impressively bad. If you're getting out-acted by a seven year old, then it's time to find a new job. Said seven year old is actually a pretty good actor, but guys, DON'T put him in any more horror films. His scared expression was by far the most unintentionally hilarious moment in a movie that is full of them. Eh, I forgive him, he wasn't too heinous for the most part.
Drew Smith
Super Reviewer
Since I watched this film directly after the atrocious 'Scarred' this film seemed Oscar worthy. The acting talent is there with both Clarkson and Weber creating an emotional and believable couple. The film keeps a slow and steady pace but then derails as finally father and son begn to bond in a way reminiscent of the dinner scene in 'Jaws' just in time for an accident that never sees this relationship come to fruition. Finally the mythological aspects come into play with a guy running round in a deer suit which looks so campy not one shot lasts longer than a second. What could have been a nice psychological family drama/horror just sort of flaps about like a dying fish.
Luke Baldock
Super Reviewer
Wendigo Quotes
There are no approved quotes yet for this movie.