Werewolf: The Beast Among Us
(2012)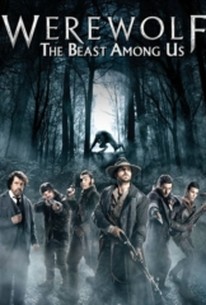 Werewolf: The Beast Among Us Photos
Movie Info
A monstrous creature terrorizes a 19th Century European village by moonlight and a young man struggles to protect his loved ones from an unspeakable scourge in Werewolf: The Beast Among Us, Universal Studios' all-new addition to its time-honored legacy of classic monsters. During his studies with the local doctor (Stephen Rea), Daniel (Guy Wilson) witnesses the horrific consequences of werewolf attacks. Watching as the beast's fearsome reputation draws bounty hunters, thrill seekers and charlatans to the tiny town, Daniel dreams of destroying the ruthless predator. So when a mysterious stranger (Ed Quinn) and his team of skilled werewolf hunters (Stephen Bauer, Adam Croasdell) arrive to pursue the monster, he offers to join them, despite his mother's (Nia Peeples) protests. But it soon becomes clear that this creature is stronger, smarter and more dangerous than anything they have faced before. As casualties mount and villagers see their neighbors transformed into ravening monsters, the townsfolk take up arms against each other to find the true identity of the werewolf. Amid the hysteria, Daniel begins to suspect he's closer to his target than he ever dreamed.
Critic Reviews for Werewolf: The Beast Among Us
Audience Reviews for Werewolf: The Beast Among Us
½
Very made-for-TV. Pretty incoherent in its canon. Not so good. Strong opening though, and some good looking people. Recommend you stay away from this one, but happening to catch it isn't gonna shatter your world or anything.
½
Judging by the cover of this film thoughts of 'Van Helsing' and 'Underworld' spring instantly to mind...and your not far wrong with that. This is pretty much a copy and mix of both of those films, chock full of lovely cliched characters and everything you've ever seen before in a werewolf movie. Bunch of crazy hardass werewolf hunters come to a small village to purge them of the wolf horror. A young man from the village volunteers to help them do so but there are twists to come, many predictable twists that aren't too well hidden. The film looks quite good with that typically bleak, dark, murky, 19th century, forest set, Eastern European village look. The characters are basically rips from many other films and include your obligatory Hudson from 'Aliens' type, the cool calm Clint Eastwood-esque leader, the sexy ninja like female and a well spoken, smartly dressed toff who throws lots of little knives. A kind of quirky 'League of Extraordinary Gentleman' type looking gang. The dialog is all the right kind of hero spouting fluff you have heard before, tight little one liners throughout the action just to emphasise these guys are cool and tough etc.. The reason I watched the film (apart from being a werewolf fan) was down to the reasonable looking effects. It swings from good to bad really, some shots of the werewolf's claws, eyes or silhouettes against the darkness are pretty neat and work well. The transformation sequences are fully CGI and a bit hokey but I've seen worse, whilst in full CGI motion the creature doesn't look that bad. Put it this way its no worse than the first 'Underworld' flick which had a much bigger budget. Unknown cast accept for previous vampire player Stephen Rea, none of which are much to shout about although Guy Wilson who plays the young man from the village looks perfect for his character. Honestly for a straight to DVD film this isn't too bad and offers some nice visuals and claret soaked action, just don't expect anything original at tall.
Phil Hubbs
Super Reviewer
½
Not as horrifically terrible as I was expecting once I started watching it. It's not a good film, in fact, it's actually pretty bad. But it's bad in a way that's kinda charming in a B-movie way. It's cheap, it's poorly acted and it's got some terrible CG effects and it makes no bones about it. I like Stephen Rea, but I'm genuinely curious what he saw in this script. Maybe he desperately needed the paycheck. This movie is weird in the sense that I spent a lot of the time thinking to myself of who the people in the cast reminded me of, that were already famous. Clearly the lead is Bradley Cooper. The British guy reminds me of what a child between Robert Downey Jr. and Alan Cummings would look like. And David, the young apprentice, his voice reminded me of a Elijah Wood. Why the fuck did I spend so much time on that? I literally have no idea, but that's what I spent the movie doing. I wasn't exactly distracted since I was pretty much following the film from beginning to end, but my mind wanders sometimes. Plus I don't think I have much to write about this, so think of this as filler. Anyway, at least this is something that's easy to watch. It does not require a lot of brainpower to sit through. There's a lot of goofiness involved here, as was to be expected, and the film did make me laugh with its badness. Well, really, there was one really bad actor, the guy who plays Jaeger, who definitely made me laugh more than my fair share with how bad he was. It's not like the film is chock full of award-worthy performances, unless it's the Razzies, but Jaeger did stand out above everyone else in terms of how bad he was. He was definitely hamming it up. A lot of the story, to me, doesn't really make a whole lot of sense because it's hard to come up with a timeline for these things to have happened. Maybe it all lines up perfectly and I just didn't care to piece two and two together, but it just didn't work to me. And there's some strange character development here in that the British guy, who had been portrayed as an arrogant asshole, all of a sudden goes full-on evil. It was definitely out of left field. It was very poorly set-up and not particularly satisfying. I guess it was just something they had to do, but considering he had been travelling with the hunters, does that mean they had to deal with his bullshit once the solstice came? It just seems silly. And not to mention that, at the climax, which should be the most important part of the film since you're wrapping up your story, all of the hunters, minus the British guy, just absolutely vanish. They reappear, of course, but it's just odd that they would disappear during the climactic moments of the film. It is what it is. With that said, some of the practical gore effects are actually really good. Maybe not outstanding or anything, but better than the budget implied. I don't really have much else to add. This is a bad movie that you can laugh at with a group of friends. If you can gather up a group, then I say go for it. If not, well, there's probably better films to watch than this. Dead Snow 2, perhaps.
Jesse Ortega
Super Reviewer
Werewolf: The Beast Among Us Quotes
There are no approved quotes yet for this movie.