West Is West
(2011)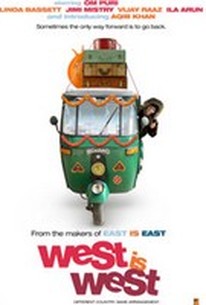 Movie Info
Manchester, North of England, 1975. The now much diminished, but still claustrophobic and dysfunctional, Khan family continues to struggle for survival. Sajid, the youngest Khan, the runt of the litter, is deep in pubescent crisis under heavy assault both from his father's tyrannical insistence on Pakistani tradition, and from the fierce bullies in the schoolyard. So, in a last, desperate attempt to 'sort him out', his father decides to pack him off to Mrs. Khan No. 1 -- the wife and daughters he had abandoned 30 years earlier and their family in the Punjab. It is not long before Ella Khan (Mrs. Khan No. 2), with a small entourage from Salford, England, swiftly follows to sort out the mess, past and present.
Critic Reviews for West Is West
Audience Reviews for West Is West
½
Intriguing sequel to 'East is East', this film follows teenager Sajid, George, Ella, and Maneer in the homelands of the Khan patriarch. With Annie (Ella's best friend) in tow, Ella finds the countryside an entirely different world and a whole different life that George had left behind. Getting to know the first wife, Ella realizes there is more to this side of the family with their troubles as much as there is to deal with her own. In the meantime, Sajid and Maneer are striving to keep the family together while also having a round of skirmishes of their own. Worthy!
½
Very cookie cutter in its approach. You could take any sentimental film from the last twenty years, replicate all the poignant scenes and come up with a film like this. Feels forced. The characters are taking unbelievable leaps of faith.
John Ballantine
Super Reviewer
For those who aren't aware of the original film, East Is East, released twelve years ago, was the story of the Anglo-Pakistani Khan family living in early 1970's Salford headed by father, George (Om Puri), and his wife, Ella (Linda Bassett) and George's attempts to ensure that his children live in a respectful Pakistani tradition including comedic minefields such as potential arranged marriages to women who were not blessed in the looks department and a youngest son who required a circumcision, along with more serious issues such as the eldest son being declared "dead" to the family because he left his bride at the altar (I don't want to reveal the reason why in case anybody hasn't seen the film). Well, four years have passed for the Khan family and the only child living with George and Ella is the aforementioned youngest son, Sajid (Aqib Khan). Due to the regular racist bullying he receives, Sajid regularly skips school which leads to him being caught shoplifting. When Sajid says that the only home he knows is England and does not acknowledge, or is proud of, his Pakistani heritage. George decides to take Sajid to his original home in Pakistan - which includes issues such as meeting a family and first wife who he hasn't seen for thirty years and re-introducing themselves to one of George and Ella's sons, Maneer (Emil Marwa), who isn't able to get married because he isn't seen as a viable choice. Whoever commissioned West Is West must have known that they were taking a gamble to do a sequel for such a small scale yet critical success over ten years later. This film pulls off the "difficult second album" in great style with help from all departments. Ayub Khan-Din's screenplay is very much in the mould of the original film with the viewer able to laugh with the culture clash humour facing George and Sajid rather than at any stereotypes. The film feels more like a theatre performance rather than a film, which works to it's benefit as it allows the viewer to relax and be able to feel the emotions of the characters involved. Andy De Emmony's direction along with the cinematography is first class. On the one hand, you get the dull browns and grey's that tend to dominate the colour pallet of a film representing England in the early to mid 70's. When the viewer arrives in Pakistan, you do get a sense of Sajid's visual emotions with it's beautiful tones and landscape. The acting is also of a very high standard, particularly by Puri, Bassett and Marwa - who is involved in nicely written sub plot along with Aqib Khan regarding Sajid's quest to find Maneer a wife who is willing to marry him. But the real star of this film is Aqib Khan in the role of Sajid. He has to portray a teenager who is not only undergoing puberty, but is also facing a crisis of identity as to whether he is English, Pakistani or facing a constant tug-of-war between two distinct traditions. He manages to pull off a very clever trick by making Sajid's dilemma thought provoking, sympathetic and funny and his partnership with Nadim Sawalha, who plays a local guru who tries to get Sajid to think for himself, is very touching. Ultimately, West Is West is a film that is definitely "Book 2" of the Khan family album and that is the film's Achilles Heel. You need to have watched the first film to gain an understanding of the relationships within the Khan family and how these relationships inform the family members' behaviours. That said, this film is equal to, and in some area surpasses the original - notably in George's character development and I have no problem with recommending this film. So, I'll give this film 80% - I've knocked off 20% for the fact that it is pretty much essential that the viewer has to watch the original film rather than being a film that the viewer could comfortably watch in it's own right.
Theta Sigma
Super Reviewer
West Is West Quotes
There are no approved quotes yet for this movie.