West of Zanzibar
(1928)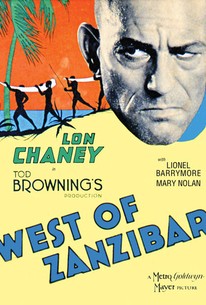 AUDIENCE SCORE
Critic Consensus: No consensus yet.
Movie Info
Even by the standards of star Lon Chaney and director Tod Browning, West of Zanzibar is an unrelentingly grim and gruesome melodrama. Chaney delivers an unforgettable performance as Flint, the crippled "king" of a faraway jungle island. Swearing vengeance against Crane (Lionel Barrymore), the man who stole his wife and left him a paraplegic, Flint concentrates his hatred on Crane's daughter Anna (Jane Daly). Bankrolling the girl's convent education, Flint brings Anna to his island domain, where he pumps her full of narcotics and forces her into a life of prostitution and all-around depravity. As a final humiliation, he intends to allow Anna to be sacrificed in a native ritual. But when he finds out that Anna is actually his own daughter, Flint does an abrupt about-face and does all he can to rescue the girl and her dissolute sweetheart Doc (Warner Baxter) from the rampaging natives. West of Zanzibar was remade (and, it has been, argued, vastly improved upon) as Kongo (1932), with Walter Huston in the Chaney role.
Critic Reviews for West of Zanzibar
All Critics (2) | Fresh (2) | Rotten (0)
Chaney plays a stage magician whose signature trick is to transform a beautiful woman into a skeleton: This is an absolutely brilliant -- and economical -- visual evocation of the relationship between sex and death, the erotic and the morbid...
What makes this film special is the virtuoso performance of Chaney.
Audience Reviews for West of Zanzibar
Another successful Tod Browning and Lon Chaney silent pairing; these two seem to have been made for one another. Chaney plays a magician who has been crippled during an altercation with his wife's lover (Lionel Barrymore), and then plots revenge. Left with the pair's daughter (Mary Nolan), he sends her off to a sleazy place in Zanzibar, where as an 18 year old we find her in a dive bar bantering with men. The implication is clear. He steals ivory from Barrymore in order to goad him into coming to him, then sends for Nolan, in order to spring vengeance in the form of her degradation. Things don't go as he plans, but I won't spoil it. Chaney gives a great performance, and with a range spanning glowering bitterness to frightened horror over some of his actions. He's so great physically in these types of roles, truly appearing as one who has no function in his legs as he pulls himself up and down from his wheelchair. Barrymore, Nolan, and Warner Baxter (in the role of a doctor) are all strong as well. Browning is fantastic at blending macabre elements, such as the natives' practice of burning a wife or daughter alive when a man dies, with psychological shock and horror. As compared to William J. Cowen's remake four years later ('Kongo'), I found this one to have a lesser degree of racism, though the 'savage cannibal'/'civilized man' aspects are present. It's unfortunate that a portion of the footage seems to be missing - in particular, when Nolan's character apparently has run away, only to appear the next day in a bedraggled, dirty appearance. Even so, it holds together and makes for a good watch, if you're in the mood for something dark.
Antonius Block
Super Reviewer
A remarkably dark, twisted movie, even by contemporary standards. And of course, it has a fantastic performance by Lon Chaney, playing a maniacal, vengeful Colonel Kurtz type who has paralyzed legs and laboriously drags himself around on his arms. "West of Zanzibar" is not as well-known as other Tod Browning films like "Dracula" and "Freaks," but it's just as powerful. I feel it desperately needed a flashier title -- "West of Zanzibar" suggests some dull National Geographic travelogue, not this sick, gripping melodrama. One warning: In a movie about African natives made in the 1920s, embarrassing racist stereotypes are a given.
Eric Broome
Super Reviewer
A bit slow and overly dramatic but undeniably interesting and atmospheric vehicle for the legendary man of the thousand faces, Lon Chaney. well crafted revenge flick.
Pierluigi Puccini
Super Reviewer
West of Zanzibar Quotes
There are no approved quotes yet for this movie.