Westworld
(1973)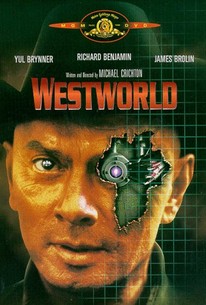 Movie Info
Welcome to Westworld, where nothing can go wrong...go wrong...go wrong....Writer/director Michael Crichton has concocted a futuristic "Disneyland for adults", a remote resort island where, for a hefty fee, one can indulge in one's wildest fantasies. Businessmen James Brolin and Richard Benjamin are just crazy about the old west, thus they head to the section of Westworld populated by robot desperadoes, robot lawmen, robot dance-hall gals, and the like. Benjamin's first inkling that something is amiss occurs when, during a mock showdown with robot gunslinger Yul Brynner, Brolin is shot and killed for real. It seems that the "nerve center" of Westworld has developed several serious technical glitches: the human staff is dead, and the robots are running amok. Suddenly promoted to the film's hero, Benjamin (who seems as surprised and shocked as the audience) must first avoid, then face down the relentless Brynner. Much of Westworld was lensed on the expansive grounds of the old Harold Lloyd estate in Beverly Hills, so it's no surprise that there's something Lloydlike about Dick Benjamin's instinct for self-preservation.
News & Interviews for Westworld
Critic Reviews for Westworld
Audience Reviews for Westworld
½
It takes too long for things to start to finally happen in this dull precursor of Jurassic Park (although everything is quite predictable right from the beginning), with also a glaring problem of focus and terrible pacing and editing, but Yul Brynner looks cool as a killing robot-cowboy.
Carlos Magalhães
Super Reviewer
Writer/director Michael Crichton imagines a future where technology is good enough so that robots resembling humans are indistinguishable from the real McCoy. In Blade Runner such automatons are put to work, doing the most dangerous jobs. Crichton says, nope, we'll invent a Disneyland where we'll pay to kill 'em or sex 'em and I'm inclined to agree with him. So what happens if there's ever some sort of technical glitch? Kind've a thin premise, but the actors sell it.
Kevin M. Williams
Super Reviewer
Great premise, but the result did not age well at all.