Whale Rider
(2003)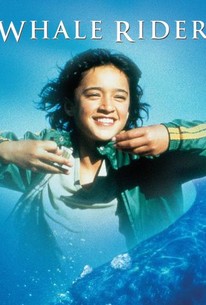 Movie Info
On the east coast of New Zealand, the Whangara people believe their presence there dates back a thousand years or more to a single ancestor, Paikea, who escaped death when his canoe capsized by riding to shore on the back of a whale. From then on, Whangara chiefs have always been the first-born and male. Many generations later, the contemporary tale revolves around a young mother whose male newborn twin dies in childbirth. Her young husband flees New Zealand in grief, leaving grandparents Koro and Nanny Flowers to raise the sole survivor, a feisty little girl named Pai, who radiates with life and energy. It's no wonder that her grandmother and the entire community love her, but alas, the grandfather she worships is too busy mourning the loss of the baby boy he expected would lead the tribe to better days.
News & Interviews for Whale Rider
Critic Reviews for Whale Rider
Audience Reviews for Whale Rider
½
A poetic look into a different culture that really isn't too different, simply remembering that it was at one time and wanting to hold that memory. A small coastal community of Maoris deal daily with being New Zealanders while not being entirely so, particularly hard for a young pubescent lass ostracized because of her sex, despite that she offers hope of continuing traditions. Good performances by all the leads though the story worries around a barn door being open long, long after the horse has already gone.
Kevin M. Williams
Super Reviewer
A young girl might fulfill a prophecy in an indigenous New Zealand community. Though the film brims with authenticity, it is almost too authentic. There are voice overs explaining the culture in which the film is set, but I spent some of the film lost about the relationship between the protagonist and the legend she's supposed to fulfill. The patriarchal structure of the family provides grounding to the story, and the interactions between the characters are interesting, but the grand metaphysical puzzle that dominates this film isn't clear to one who is unfamiliar with the film's cultural backdrop. Overall, I liked Whale Rider, but I don't think I fully got it.
Jim Hunter
Super Reviewer
It is not very often that I'm impressed with a child actor. I'm usually just greatful when they don't totally annoy me and/or cheapen the film. But every once and awhile, I am blown away (Victoire Thivisol - Ponette / Anna Paquin - The Piano / Christian Bale - Empire Of The Sun) and Keisha Castle-Hughes performance here, is one of those rare ocassions. This film is not overly complex, but it is deeply moving and beautifully shot and told. The cast in general is exceptional, but also worth noting is Vicky Haughton as "Nanny Flowers". I didn't expect to be as moved by this film as I was, but it really touched me and that has everything to do with the performance of Castle-Hughes. She is completely engaging and totally bealievable in her role. A true "natural".
Whale Rider Quotes
There are no approved quotes yet for this movie.