What a Girl Wants
(2003)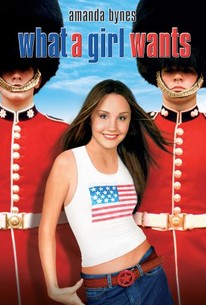 Movie Info
Daphne Reynolds has what every girl wants--or so it seems. This spirited young American girl has a unique style all her own, an unconventional but loving relationship with her bohemian mother Libby and a future full of possibilities--but despite her remarkable promise, Daphne feels incomplete. She dreams of one day meeting the father she's never known, the man Libby shared a whirlwind romance with seventeen years ago, but ultimately left behind because his aristocratic family found her unsuitable. Determined to live out her fantasy of forging a storybook relationship with her long-absent dad, Daphne impulsively hops a flight to London, where she quickly discovers that her father is high profile politician Lord Henry Dashwood. When Henry opens his life and his social calendar to the daughter he never knew existed, Daphne's appearance in high society creates an uproar that threatens to undermine his political career. Not wanting to jeopardize his campaign for an upcoming election, Daphne stifles her naturally vibrant personality, refashions herself as a proper debutante and plunges into a whirlwind of stuffy British social events. But even with Henry's support, she's not getting any help from his conniving fiancée or her jealous daughter, who are bent on ruining Daphne at every turn. With the aid of Ian, a charming and society-savvy local musician, Daphne attempts to prove that love--and proper etiquette--can conquer all. But Daphne soon realizes she doesn't like the person she's becoming in the process. As much as she wants to be her father's daughter, it's not worth it if she can't be herself.
News & Interviews for What a Girl Wants
Critic Reviews for What a Girl Wants
Audience Reviews for What a Girl Wants
½
If you are feeling a little down and want to watch a happily-ever-after fairy tale, this is the movie for you!
½
Ordinary fish out of water rom/com is set a step above the rest of its ilk by beautiful location filming in London and Colin Firth and Eileen Atkins in the cast.
Daphne is an American teenager out to find her father, Lord Henry Dashwood. She's up to the challenge as she encounters snooty rich people & falls in love with a British boy. This is one of my favorite Amanda Bynes movies!!! :) I love it so much! (:
Cassie Hill
Super Reviewer