What Ever Happened to Baby Jane?
(1962)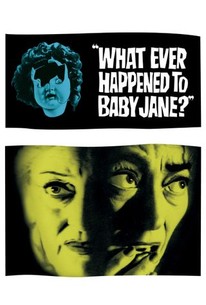 TOMATOMETER
AUDIENCE SCORE
Critic Consensus: What Ever Happened to Baby Jane? combines powerhouse acting, rich atmosphere, and absorbing melodrama in service of a taut thriller with thought-provoking subtext.
What Ever Happened to Baby Jane? Photos
Movie Info
As a child, Baby Jane Hudson was the toast of vaudeville. As an adult, however, Baby Jane was overshadowed by her more talented sister, Blanche, who became a top movie star. Then, one night in the early '30s, came the accident, which crippled Blanche for life and which was blamed on a drunken, jealous Jane. Flash-forward to 1962: Jane (Bette Davis), decked out in garish chalk-white makeup, still lives with the invalid Blanche (Joan Crawford) in their decaying L.A. mansion. When Jane isn't tormenting the helpless Blanche by serving her dead rats for breakfast, she is plotting and planning her showbiz comeback. Convinced that her days are numbered if she remains in the house with her addlepated sister, Blanche desperately tries to get away, but all avenues of escape are cut off by the deranged Jane. What Ever Happened to Baby Jane? sparked a trend toward casting venerable Hollywood female stars in such grotesque Grand Guignol melodramas as Lady in a Cage (1964) and Hush...Hush Sweet Charlotte (1965). In addition to revitalizing the careers of Davis and Crawford, whose real-life mutual animosity came through loud and clear, the film made a star of sorts of 24-year-old character actor Victor Buono, cast as a porcine mama's-boy musical composer. Lukas Heller's screenplay was based on the novel by Henry Farrell.~ Hal Erickson, All Movie Guide
News & Interviews for What Ever Happened to Baby Jane?
Critic Reviews for What Ever Happened to Baby Jane?
Audience Reviews for What Ever Happened to Baby Jane?
½
Davis and Crawford embrace their roles with a tremendous intensity, delivering two spectacular performances like horror queens in a campy, bizarre story and making this a hilarious psychological thriller that is really entertaining as far as classic exploitation goes.
Carlos Magalhães
Super Reviewer
Sharing a distinction with Sunset Boulevard in showing the aftermath of Hollywood stardom, What Ever Happened To Baby Jane goes a step further in that we follow the fallen careers of former vaudeville child star Baby Jane (Bette Davis) and her invalid sister, the former star Blanche (Joan Crawford). How does your life go on when you had access to everything, but end up with nothing but memories and fallen glory. It is truly enough to drive a person mad. The film opens with Jane being the child star on the vaudeville circuit, with all the spotlight shining on her young face and every whim of the young girl being fulfilled. At such an early age this child is being merchandised by dolls, perpetuating the idea that she is the center of the universe. Hiding in the shadows is Blanche, all but forgotten by their father who focuses on Jane's career. There is a deep resentment in her face as she watches Jane's behavior. We jump to later where Blanche is the star in Hollywood, but insists that Jane also have a film contract even though her childhood talent did not translate into adulthood. Things turn for the worse when Blanche is paralyzed in an incident that Jane is blamed for, effectively ending both of their careers. After the accident Jane has been caring for Blanche in their spacious Hollywood home. Resentment is the main ingredient in Jane's fall into madness and it finally comes to an apex when she learns that Blanche plans to sell the home for something more manageable. Resentment turns to torture, turns to terror as the film plays out. Casting Bette Davis and Joan Crawford as the sisters was a work of genius. While watching the film I realized that the reason that both actresses took their respective roles was due to the intense competition between the two that had occurred for decades. Joan Crawford could make Bette Davis look terrible and Bette Davis could kick Joan Crawford around for two hours. A wonderful time was had by all. That genuine resentment between the two flows throughout the film, delivering an even deeper experience that pulls the viewer into this world that they created. Blanche is still loved and her films still run on television. Jane's vaudeville career is forgotten. Either actress could have played either role, but they were set in the roles that were best for themselves. Director Robert Aldrich shoots a film that, unlike Sunset Boulevard, doesn't cast a bleak, dark world, but a world that has continued beyond the careers of the two leads. The sun still shines, people still have a good time. Aldrich follows Jane's spiral into madness, hinting around the psychological and physical torture that Blanche receives. This feeling that the world has moved on fully develops in the ending where the world around them is being entertained while the sisters are literally in the middle, gone and forgotten. An ending that seems weird, but symbolizes the entire theme of the film. No matter how famous you are, eventually the world will move on no matter what. It's a sad truth that every celebrity needs to face and some may take it better than others. Films about Hollywood are always a touchy subject. The possibility of falling into the pit of over glamorizing is always an issue that can occur and dilute the message that a filmmaker is trying to achieve. With Baby Jane show business really dies in the film when Blanche is paralyzed, something that Blanche accepts, but Jane cannot do. Eventually she descends into replaying her childhood career, a middle aged woman singing songs that a young girl sang all those years ago, becoming a pathetic parody of herself. This film is a more subtle examination of the fallen star than Sunset Boulevard and stands on its own. They may be related, but they're distant cousins. Both with madness, both with terror, but this film is more optimistic. This film is one of the greats and serves as the swan song for the careers of Bette Davis and Joan Crawford. What Ever Happened To Baby Jane is a necessity in cinephile viewing.
Chris Garman
Super Reviewer
½
Spurred by jealousy and guilt, a former child star tortures her wheelchair-bound sister as she tries to make a comeback. Torture-porn and the obvious precursor to Misery, this film features fantastic performances by Bette Davis and Joan Crawford, each screen legends in her own right. Davis gets the meatier of the two parts, and her performance is courageous and ugly, showing Davis's talent as an actress, not just a movie star. There's something sickening about this film. The plot requires sympathy for the tortured Blanche, but in order for the story to advance, we also need to see the extremity of her situation increase. Putting us in this strange position, the film also tries to get us inside Jane's self-delusions. The sum result is a plotline that's both complex and difficult to stomach. Overall, this is a fine thriller, propelled by two great leading actresses.
Jim Hunter
Super Reviewer
What Ever Happened to Baby Jane? Quotes
| | |
| --- | --- |
| Jane Hudson: | You don't think I remember anything, do you? There are a whole lot of things I remember. And you never paid for this house. Baby Jane Hudson made the money that paid for this house, that's who! |
| | |
| --- | --- |
| Blanche Hudson: | Yes, she's emotionally disturbed. She's unbalanced! |
| | |
| --- | --- |
| Edwin Flagg: | [shocked at some obscenities Jane has scrawled] I can't remember the last time I saw words like that written down! |
| | |
| --- | --- |
| Jane Hudson: | I don't want to talk about it! Everytime I think about something nice, you remind me of bad things. I only want to talk about the nice things. |